TRIBECA REVIEW: 'Chupachups'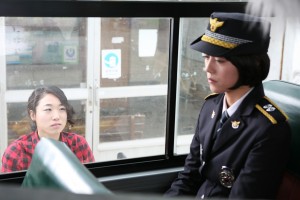 Director Ji-suk Kyung's new short film, Chupachups, is an effective portrait of a love that's unable to blossom. It features two friends (Mi-do Lee and Myung-jin Lee) who haven't seen each other in quite a long time. Sung-joo recently passed the test to become a civil servant in South Korea, while Shin-hee has inherited her parents' coffee shop. They slowly realize that their friendship (and perhaps something further) is falling apart. They will soon go their separate ways, perhaps never to see or hear from each other again.
The movie, which fits nicely into 16 minutes, tells a story that is so common for so many people. Whether it's dealing with the uneasy time after high school graduation, or the preparation for a big move across the country, when someone says goodbye, it always results in a breaking with the past. Sunj-joo and Shin-hee realize that their relationship will be solely relegated to memories. Their upbringing, their good times, their learning the lessons of life — all of this will be jeopardized by Sung-joo's new job.
Underneath the surface of Kyung's film is an unspoken love. It's never overtly stated, and the director deals with the issue in a very subtle, almost respectful manner, but it's definitely there. These friends have shared so much that their separation is proving to be a gargantuan effort.
Chupachups is part of the Tribeca Film Festival's Fallout series.
By John Soltes / Publisher / John@HollywoodSoapbox.com
Click here for more information.