INTERVIEW: 'Memphis' star J. Bernard Calloway talks about his dream come true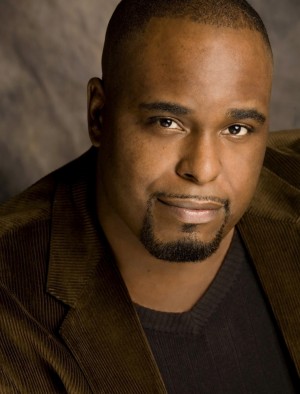 NEW YORK — J. Bernard Calloway knows his lines by heart. His entrances and exits have been perfected, and his dance moves are now part of his internal rhythm. The actor, who has played the part of Delray in the Tony-winning musical Memphis for several years, knows his show as if it were a second home.
But eight times a week, the accomplished actor with the commanding presence and smooth voice knows how to keep everything fresh, as if every line of dialogue, every move of his dancing feet, every jazz-infused musical note were emanating from his body for the first time. Memphis may be nearing its three-year anniversary on Broadway, but a new show is baptized every single night at the Shubert Theatre. Original cast members, including Calloway, have stuck with the two-act musical throughout its ever-changing evolution. Their dedication to their characters has likely changed them, both professionally and personally.
At a recent performance of the show, which tells the story of a white deejay (Huey) trying to introduce the soulful voice of a black woman (Felicia) to an often-prejudice radio audience, Calloway worked his way through the scenes with a palpable energy. As Delray, the protective and somewhat misunderstood brother of Felicia, his character provides the show a constant wake-up call. Doubting Huey's intentions and the inherent danger in his sister's relationship with a white man, Delray preaches caution and respect, all the while running an underground night club.
Recently, Calloway talked with Hollywood Soapbox about Delray and how Memphis has made his dreams come true. Questions and answers have been slightly edited for brevity.
Has it been an incredible journey?
It has been a truly great journey. To originate a role way back in 2003, and to have an actual dream come true for a young actor to go to Broadway with the show, and then the accolades that we won for it was truly the height of it. But even more so, man, it seems like Memphis is creating longevity. We just celebrated being the 100th longest-running show in Broadway history. I am truly excited to see what the future of Memphis brings to Broadway.
How did it all begin?
I was submitted for it back in the day, back in the day meaning 2003. And at the time I was actually waiting tables at Brooklyn Academy of Music, one of my little interval jobs between gigs.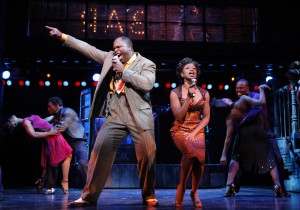 I went in and auditioned, and I actually did the callback the same day and got the job the same day. So that rarely happens in the process in New York City. We premiered it at North Shore Music Theater in Beverly, Mass., back in 2003. Then we took it to Palo Alto, and we did it at TheaterWorks in spring of 2004.
Now, between 2004 and 2008, we did a lot of workshops. We work-shopped the mess out of the show, and at the same time, getting donors together and people to raise money. At least in 2009, it took $8 million to $11 million to put a show up on Broadway, especially a show like ours with … all the cast members and the lighting and costuming that goes into a great production. Then what happened, we took it to La Jolla Playhouse in the fall of 2008, a co-production between them and 5th Avenue Seattle Theater, which is a great theater, by the way. We took it to 5th Avenue in January and February of 2009. Then we opened rehearsals on Broadway, I believe, the week of Aug. 10, and then previews happened and next thing you know we're open on Broadway, Oct. 19, 2009.
When things really, really got exciting is obviously the buzz about Montego (Glover's) work in the show and Chad (Kimball's) work in the show, our Felicia and Huey at the time. We got to the Tonys and the celebration of it and performing in it on that big stage and back stage with all the stars, Catherine Zeta-Jones and Fela and all those other great shows. Truly, it was a roller-coaster ride that I will never, ever forget. One of those major rides you get on when you're at Disney World or an amusement park, and every time you go, you get on it because it's one of the most exciting rides ever and you just never forget it. Well, that ride is something I would love to get on again hopefully in my career. To experience the excitement of the Tonys, the prestige of it, all the great people that are around and the people that you meet, and the celebratory atmosphere of it. There's nothing you can replace it with. A huge, huge, huge high.
We're in our third year now, going into our fourth year officially in August. I know for a fact that a lot of shows don't last past a year. To be a part of that class of shows to make that historical mark of longevity is truly an achievement for everybody in our show — I'm sure from the producers all the way down to the last stagehand there at the Shubert Theatre.
They could have hired stars to fill those magnificent roles. But they stuck with us, because I believe they believed in us in telling the story and being great storytellers. And it worked really fine. I'm like a kid in a candy shop right now. I'm in an exciting place in my career right now.
Could you describe that opening night on Broadway?
Nerves. Nerves. Wow, I was nervous that night. And I'm talking about the first preview. For me, that was my opening. I was really, really nervous. I got the kind of nervous where your throat gets dry before you step out and you have to swallow a few times to lubricate your vocal cords to even speak. You know what I mean?
Honestly, once that music from 'Underground' started, it all went away. Once that starts and you're in it, for me everything else evens out and I'm in the story, and I'm able to become the storyteller and give the audience a great show without having any reservations about the nerves taking over and creating hell on the stage for me. I don't want that to happen ever.
I was so nervous that night. My God, when the curtain came down, tears came out, because for a guy like me, I'm from Fort Lauderdale, Fla., I got a B.A. in theater from Alabama State and a MFA in acting from Brandeis University, and my forte is really drama, it's really the drama. But I can always sing and always played musical instruments with my family.
We ended up surprising everybody for that season, and to be where we are and to continue with the energy and the music and the life of the show every day and every night, eight shows a week, is truly, truly a blessing. We get standing ovations every single night, and that is something I had never experienced as an actor in theater ever. Every single night, everybody singing 'Na, na, na…' That's crazy, man. And it's a good crazy. People leave the theater feeling so great they want to buy the CD, they want to buy the DVD, they want to tell their friends about it and have more people come out and see us.
How do you keep the performance fresh and not get bored with the role?
What I try to do is honestly let the words flow through my imagination until an experience comes up for me. I, as an actor, believe that if it doesn't ring true to me, if the audience doesn't see me having fun and living through the moment, then they're not going to believe it. So it is my duty as a performing artist to allow that to ring true for me every night, so it can be fresh for me.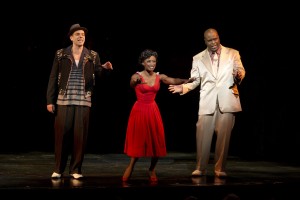 Now there are things that obviously stay the same, as far as choreography and things of that nature. But living in the moment, as Shakespeare said, 'To be or not to be,' so being in the state of being every night and being fresh is something that I challenge myself with every night and I try to bring to my work every night. And not to do something so different or fresh that it throws my other peers off on stage, because it's a collaborative art form.
Acting is reacting, so I feed off my peers a lot when I'm on stage. Because my character listens a lot on stage. Besides actually speaking, he listens to what is going on and reacts to it in a reflective manner that doesn't upstage other people on stage and doesn't take away from the immediate story that's going on. So every night I have to make that fresh for myself, because if I don't, I feel like I'm putting myself in a box and I'm limiting myself to what I do every night.
Theater, I think, it lives and breathes every day, every night. If you're living inside the story, then you shouldn't be a robot doing it the same way every night, because then for me it would get really, really boring. It's a good enough story that I can be able to play inside it without burning myself out eight shows a week. One does get tired though, but that's a part of it. When I'm called to duty, I check in every day and put my hard hat on and blood, sweat and tears out there every night.
How long will you be with the show?
I'm going to stay with the show until the wheels fall off, baby. It's great to be employed, doc. It really is; it's a blessing, especially with the economy the way it is right now. The thing about me is, as a principal actor on Broadway, they give us outs. So we can leave and do other stuff, if we choose and if it works with the scheduling of the show. My wife, Carmen Ruby Floyd, is in Porgy and Bess. So you got two production contracts going on in the house at the same time, so I'm taking advantage of that while I can. I look forward to being in Memphis as long as I possibly can, as long as they'll have me. Because I'm always going to believe in this show and continue to be with it until it's time for me to leave.
Could you talk about Delray a bit?
Delray is an entrepreneur of that time. It's something you rarely probably even see, an African-American owning a legit spot. I've got to be candid with you about it. A lot of time when I go out and sign autographs, people are afraid of me because every time you see Delray in the show, he's always getting on Huey about something.
I've had to find a balance in that so that every time you see me it's not like you see me hollering or yelling at this guy, but trying to inform him or warn him that the way you're going about doing this thing with my sister is very, very, very dangerous. And that is the underlying current of my plight and my arc in this show, is the buffer for my sister. The liaison is the word I use, between Huey and Felicia.
Personally it has taught me a lot about patience, because playing this role you have to be patient. I could use a weak choice just yelling at this guy and choking him at every chance. But, once again, that gets boring. That's such an easy choice to make. To find a way to be patient and have the audience see through me the discipline and professionalism and protective love that anyone would give their little sister, their little brother, their mom, their dad, their uncles, that anyone would give in this type of situation is what I want people to take away from my character.
They say when you're approaching a role, you try to bring your best personal traits to the role in order to bring the best out of the character and yourself. Delray is a force to be reckoned with. Sometimes he's overshadowed and he's overlooked because of the situation that's going on, but he stays steadfast and unmovable for his sister throughout the whole entire show.
By John Soltes / Publisher / John@HollywoodSoapbox.com
Click here for more information on Memphis.