TRIBECA REVIEW: 'Booker's Place: A Mississippi Story'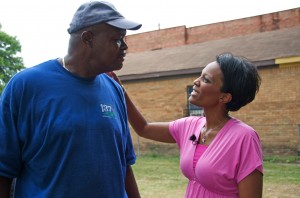 Director Raymond De Felitta has created a somber, soul-searching documentary with Booker's Place: A Mississippi Story.
The documentary, which is part of the Tribeca Film Festival and now available on VOD, reinvestigates a story that took place 40 years ago in Greenwood, Miss. It was in this southern town, amid a national conversation on civil rights, that De Felitta's father, Frank, filmed a documentary about race relations for NBC. The resulting portrait of the American South left an indelible impression for TV viewers sitting at home, and that's mostly because of one segment involving Booker Wright, a kind black man who worked as a waiter at a local restaurant. Wright opened up to Frank like no other subject in the film, telling the camera how he deals with the constant racism around him. His pacifist answer was simple, but resoundingly powerful: He smiles on the outside, but cries on the inside.
At the time, when the documentary hit the airwaves, Wright faced heightened scrutiny for his truthful words. It didn't take long for him to lose his job, forcing his family into an upheaval. And the repercussions didn't stop there.
Raymond revisits Wright's life by interviewing his daughters, granddaughter and others who lived in Greenwood. The subject matter is engaging and often harrowing. Watching the harsh reaction to a few spoken words is depressing and quite telling of the time period. This was an American South steeped in segregation, Ku Klux Klan meetings and daily, debilitating prejudice. The fact that Wright spoke up at at time when it was dangerous to do so is the definition of brave. The fact that he met his community with a big smile is the definition of courage. Here's a man who wanted to provide for his family in an honest, hard-working way. Society had other plans for him.
Booker's Place: A Mississippi Story envelops the viewer into the story, but the structure of the documentary is slightly off-kilter. Essentially, this is a film about a film, and although revisiting the subject matter 40 years after the fact makes for a great before-and-after shot, it also makes the audience want to view the original source material. When the DVD of the documentary arrives, it would be great to get both Raymond and Frank's movies on one set. Then the audience would have the complete story, a tale that has never received a proper "period" at the end of the sentence. Wright's story continues to teach lessons, continues to offer us a glimpse into the difficult issue of race relations in the United States and continues to simultaneously impress and depress our emotions. This man deserved better, and both of these documentaries have, at the very least, ensured his life lives on as a haunting memory.
By John Soltes / Publisher / John@HollywoodSoapbox.com