TRIBECA REVIEW: 'Beyond the Hill'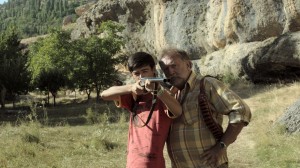 Director Emin Alper's new film, Beyond the Hill, is one of the top highlights of the Tribeca Film Festival. The sensitive portrait of a Turkish family in crisis is an effecting piece of drama that leaves a lasting impression. The 94-minute feature has the unique ability to sneak up on viewers and surprise them with introspective character work, a smart plot and believable acting. If there were one movie that deserved a distribution deal beyond Tribeca, this may be it. The fact that the movie is Alper's debut is even more reason to celebrate.
Faik (Tamer Levent) is an elderly man who has seen his country change over the decades. He lives a quiet life in the occasional company of his sons and grandsons, tending to his expansive, picturesque property in the foothills of Turkey. Faik is a proud member of the old breed, a man of the land who suspects foreigners of ill will. He's constantly railing agains the supposed trespassing of nomads on his land, but with so much acreage and so little manpower, he finds it difficult to get rid of the squatters.
Over the course of 24 hours, he sets out to enjoy his land with the rest of the men in his family. Armed with guns for a little shooting practice, plus camping supplies and water, they take in the sun and the verdant countryside as they trek away from the homestead and throughout the property.
Alper paces the film very methodically, almost deceptively. We slowly get to know Faik and his family members, learning their secrets and their weaknesses with every passing step. What begins as a day of male bonding quickly descends into dark, dark territory. Faik's sons test each other's loyalty and his grandsons learn the harsh reality of violence and manliness.
Amid this familial struggle is the constant fear of what lies 'beyond the hill.' These unnamed nomads who drive Faik to the point of madness obviously represent more than a simple threat to the family's land. There's a greater and more poignant metaphor for resistance to change, for the blindness we have toward those closest to us and for the uncomfortable feelings of never having finality in life.
Alper's film can be taken in two ways: It offers a simple tale about a family and its land, while simultaneously begging us to look further into the story for hidden (and not-so-hidden) parallels to a greater conflict. As a writer, he's skilled in the art of believable, effortless dialogue. As a director, he's able to capture the often tortuous wrinkles of both a man's face and the valleys and hills of his sacred home. He welcomes both beauty and ugliness into the same frame, always presenting them as connected truisms.
By John Soltes / Publisher / John@HollywoodSoapbox.com