TRIBECA REVIEW: 'Bad Gones'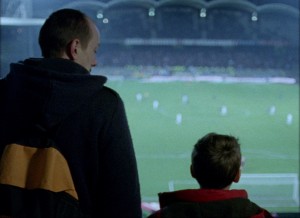 Bad Gones, a French short movie currently running at the Tribeca Film Festival, plays almost like a modern-day story from O. Henry. A father and son (Cyril Troley and Mattéo Lloret) set out to buy tickets to a soccer match. Money is tight, but this is a special night out on the town. The problem is that the only tickets remaining cost 100 Euros each, far too expensive for the father's shallow pockets. How this man is able to find a solution and keep track of his son among the shadowy figures outside the stadium gives Bad Gones is dramatic element.
The acting is quite good, and there's believability that this is a real father and son. Director Stéphane Demoustier has nicely tapped into a greater economic story and how it affects personal relationships between family members. We never find out why the father doesn't have the money for the tickets. It may be he's unemployed, underemployed or simply short on cash. But we know that taking his son to this soccer match is prioritized at the top of the list. No matter the extenuating the circumstances — and right now, we're living in a world of extenuating circumstances — certain things are untouchable, especially a child's happiness.
Bad Gones could get lost in the fray of Tribeca's many offerings. But it's an effective story that resonates. The 13-minute feature is part of the festival's Status Update series.
By John Soltes / Publisher / John@HollywoodSoapbox.com
Click here for more information on Bad Gones.