Thank goodness 'The Gang's All Here'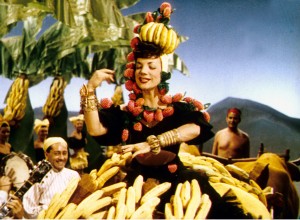 Busby Berkeley's The Gang's All Here is a surreal musical masterpiece. The plot is run of the mill and features one too many plot holes. Some of the characters are paper thin. The acting is passably exaggerated, in that theatrical style that seemed to fit the movies of the 1940s. All in all, it has the recipe for boring, boring disaster. Yet, the 103-minute film is some of the best escapist entertainment available. Featuring cleverly staged song-and-dance numbers, plus a fun performance from Carmen Miranda, Berkeley's film makes up for its total disregard for characterization and plot with a skilled artistic direction that never fails to impress.
The movie, which is currently playing at New York City's Film Forum, has the plot of many other romantic musicals from the same era. A boy meets girl. They fall in love, but under semi-false pretenses. One thing leads to another, and love eventually conquers all. It's point-A-to-point-B storytelling, but The Gang's All Here dazzles the linear plot with wondrous musical numbers that make the movie must-see entertainment.
Edie Allen (Alice Faye) works as a showgirl at the Club New Yorker, and she catches the eye of a young soldier by the name of Andy Mason (James Ellison). At first, Edie is not too impressed. He looks like just another soldier boy in search of some love before shipping out to a foreign locale. But Andy persists and takes the lady out on the town for a night of romance. In the morning, he leaves with promises of marriage. Of course, Edie doesn't know about Vivian (Sheila Ryan), Andy's fiancee.
Will true love reign? Now that Edie has fallen for Andy, will she get the beau of a lifetime? Will our leading man make it home from the war?
The answer for all of these questions is: Who cares?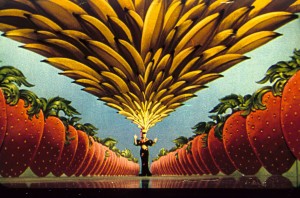 Berkeley's film, written by Walter Bullock, intrinsically knows that its plot is ridiculous. There's no more love connecting Edie to Andy than there is connecting Andy to Vivian. They are mere constructs, excuses to tell this Technicolor story.
What makes The Gang's All Here memorable are those fascinatingly staged musical numbers, when Edie performs at the Club New Yorker and later at a private war bond benefit. The lead singer-dancer is Dorita (Miranda), a sexy lady who often wears fruit hats to attract the eyes of the men who ogle her from the audience. Singing "The Lady in the Tutti-Frutti Hat" and "You Discover You're in New York," Miranda electrifies the stage with so much personality and presence that it's hard not be sucked into the screen. Unfortunately, the actress is given stereotypical "foreigner" lines with bad grammar and funny turns of phrase. But when she's singing, there's no stealing the spotlight from this luscious lady with the tall, tall hat.
The finale of this romantic comedy — a sequence known as "The Polka-Dot Polka" — needs to be experienced, preferably on a large screen. No words can do it proper justice. If the same images were used for a Beatles music video, or maybe one for The Doors, it would probably fit right in.
The highlight of the film is actually Faye's beautifully somber rendition of "A Journey to a Star." It's a rare moment of calm amid a storm of strangely effusive creativity. Berkeley succeeds at flooring our expectations and making a memorable musical journey that has no believable beginning, middle or end — just lots of bananas.
By John Soltes / Publisher / John@HollywoodSoapbox.com
The Gang's All Here

Directed by Busby Berkeley

Written by Walter Bullock

Starring Carmen Miranda, Alice Faye, Benny Goodman, Phil Baker and James Ellison

Running time: 103 minutes

Rating: