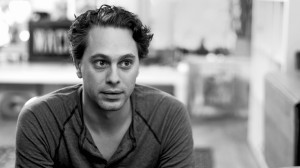 Neil LaBute's short-film entry for this year's Tribeca Film Festival is a smart look at a strong friendship gone awry. Jack (Thomas Sadoski) and Jill (Gia Crovatin) are best friends, letting each other know their secrets, reservations and doubts. For the majority of this 8-minute film, it's time for Jill to open up about her boyfriend (Chris Henry Coffey), whom she loves, but fears is cheating on her.
The talk, written in a nicely conversational tone by LaBute, feels real and comfortable, like two friends gabbing about this and that. This makes BFF both realistic and oddly boring. It takes a late-stage surprise to spice up the short film, and even then, this experiment seems somewhat wasted.
Shot in black and white (presumably in a New York City apartment), BFF continues LaBute's streak of looking at less-than-respectful male characters and how they interact with women. His dialogue and plot twists can be harsh, sometimes even cruel. But he always protects his characters with barbed vocabulary that can cut to the bone. Once the audience decides something definitive about a character, it normally comes crashing down.
The acting is all quite good, with Sadoski being the best of the bunch. The actor, who has performed in LaBute's plays both on and off-Broadway, knows how to give exquisite line deliveries and make everything seem effortlessly real. He brings life to the words on the page, turning sentences into real dialogue that feels natural. BFF  is not the best vehicle to showcase his acting talent, but Sadoski shines nonetheless.
The short film is part of Tribeca's Men-Hattan series.
By John Soltes / Publisher / John@HollywoodSoapbox.com
BFF will play April 20 at 6 p.m.; April 21 at 11:59 p.m.; and April 23 at 2:30 p.m. (all AMC Loews Village 7); plus April 28 at 12:15 p.m. (Clearview Cinemas Chelsea 6) and April 29 at 7:30 p.m. (Tribeca Cinemas Theater 2). The film is also available online. Click here for more information.