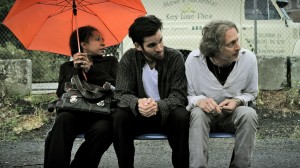 Michael Buscemi, brother of Steve Buscemi, writes, directs and stars in the new short film, B61, which is featured in the Tribeca Film Festival's Men-Hattan program. The 16-minute film is a clever conversation piece between two characters who form an odd friendship while waiting for the bus in New York City.
The two guys — played by Buscemi and Francesco Saviano — never reveal too much information about their personal lives. Saviano's character is mysterious and short-spoken, while Buscemi's character talks heatedly into his cell phone to a former girlfriend. Every morning they meet at the same bus stop, but Saviano doesn't take the bus. Instead, he's picked up in a nice-looking sports car and whisked away, always with a question lingering in the air. Buscemi is the man left behind, the man relegated to taking the bus in the bad part of town.
The one constant during their burgeoning friendship is a woman (Gail Ward) who sits on the bench reading a book every morning. She keeps to herself, but always takes a break from her overturned pages to see the progress of the conversation.
B61 is clever, albeit rather simple. It proves to be a finely focused character study in how two men deal with relationships. Saviano walks around with a sense of command and authority, while Buscemi is more wiry and unsure. They are both in search of love, but haven't quite figured out all the answers. The film never digs too deep, but offers an interesting 16 minutes with reliably good performances.
By John Soltes / Publisher / John@HollywoodSoapbox.com
B61 will play April 20 at 6 p.m.; April 21 at 11:59 p.m.; and April 23 at 2:30 p.m. (all AMC Loews Village 7); plus April 28 at 12:15 p.m. (Clearview Cinemas Chelsea 6) and April 29 at 7:30 p.m. (Tribeca Cinemas Theater 2). Click here for more information.