'Post Mortem' finds love amid the violence of 1970s Chile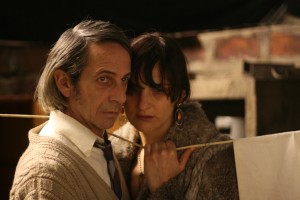 Post Mortem, the new film from writer-director Pablo Larraín, is a darkly humorous look at the 1973 Chilean coup when bloody bodies filled the streets of Santiago, all in the name of revolution. Amid the horror, when President Salvador Allende fell from power, there was still the possibility of love — even if relationships were now deeply affected by the violence.
Mario (Alfredo Castro) is a simple man with simple pleasures. When he's not transcribing autopsy information as a corner's assistant at the morgue, he's home in his small flat, boiling an egg and enjoying his own company. He doesn't speak much, and rarely shows any emotion. Mario even wears a Mr. Rogers-type sweater.
Then Nancy Puelma (Antonia Zegers), his burlesque-dancing neighbor, enters the picture. Mario lusts over Nancy and has seemingly no problem asking the attractive woman over for dinner. But Nancy is not the typical girl next door. She recently lost her job at the revue show because she's morbidly skinny, and her family and friends congregate across from Mario's home for revolutionary meetings where politics are talked about over coffee and dinner.
Still, Mario proves to be strident. He loves Nancy and wants to protect her, even when the violence of the coup descends upon their households and stands to ruin their relationship. As their love blossoms, the revolution heightens, and this tale turns down some dark passageways.
Post Mortem is strangely transfixing. The seriousness of the Chilean coup makes the film feel like a drama, but Larraín's screenplay is actually quite funny. For every scene that features a cadaver, there's a tongue-in-cheek joke about how absurd everything can be when there's political turmoil in the air.
Scenes connect to one another with hardly a transition. Mario and Nancy can go from eating eggs to having sex to talking in the street, and that's how Larraín shows the progression of their courtship. Life continues as if everything feels natural and inevitable.
Castro, with his greying shoulder-length hair, plays his part with a detached sincerity. Mario is never affected by the outside world or the changing course of events. He floats through everything without saying much, but always keeps his eye on protecting Nancy. The actor knows how to sell the dark humor with believability and genuine creepiness. There are times when Mario feels as dead as the bodies in the morgue. His face is drawn. His stare is blank. His ambition is gone. Only Nancy can perk him up.
Zegers is equally enjoyable in her portrait of a woman stuck in difficult circumstances. She's the star of the burlesque show, but her employer refuses to let her on stage until she eats more food. She lives in a house of politics, but doesn't seem overly interested in the news of the day. She's not as maddeningly in love with Mario as he is with her, but when the coup begins, she knows where to turn to for help.
Post Mortem will confuse many audience members, especially those unwilling to let Larraín take them on a trip to a dark, dark land of wan faces and oddball characters. But the movie is quite dedicated to its uniqueness, both in terms of story and atmosphere. The washed-out look of Chile in 1973 is almost archival in nature, as if we've stumbled upon a home video recording. Everything seems authentic and weathered, like everyone is living in a grainy, colorless world. The 98-minute film, which is currently playing New York City's Film Forum, never strays from its overall theme: Human connection, no matter how subdued, can still exist when the world begins to crumble.
By John Soltes / Publisher / John@HollywoodSoapbox.com
Post Mortem

In Spanish with English subtitles

Written and directed by Pablo Larraín

Starring Alfredo Castro and Antonia Zegers

Running time: 98 minutes

Rating: