'Tribes' is one of the strongest new plays of the season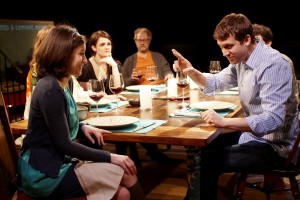 Nina Raine has crafted a thoughtful, often hilarious play with her latest outing, Tribes, currently playing the Barrow Street Theatre in New York City's Greenwich Village. The family dramedy is an expert look at the breakdown in communications among a closely-tied group of people. Director David Cromer, near perfect in almost every play he touches, stages the ensemble piece in the round. Audience members watch the action from all sides of the tiny stage, almost as if they were invited to supper.
Christopher (Jeff Perry) and Beth (Mare Winningham) are creative writers who love to play with language. They destroy and build each other up with verbal barbs that can often cut close to the heart. They're easy-going, but demanding when it comes to artistic distinction. That's why they're having a tough time with all three of their grown children still living at home.
Daniel (Will Brill) is a struggling writer working on an endlessly unfinished thesis. Ruth (Gayle Rankin) has a music career that's headed nowhere. And Billy (Russell Harvard) stays close to the family, perhaps a little frightened to leave the homestead because he's deaf. He doesn't know how to sign, but he reads lips perfectly. Both of his parents take pride in the fact that they raised him in the hearing world, a choice that was supposedly approved by Billy when he was a young kid.
They're loving people, but somewhat dysfunctional. Christopher is unable to hold back his criticism, especially when it comes to Daniel. He looks at his children as failing or failed, unable to repeat his professorial success. Beth is more conciliatory and understanding, but a little loopy (she wears a kimono to dinner).
The family unit is thrown into further disarray when Billy brings home a new girlfriend — Sylvia (Susan Pourfar), a pretty girl with a genetic condition that causes her to lose her hearing with each passing day. It's an interesting balance between these two characters. Billy has been deaf his entire life, but never learned sign language or became part of the deaf community. Sylvia, because her parents are deaf, knows how to sign, but is unable to read lips.
Many of the conversations in Tribes are built around this idea of communication breakdown. On the surface, it may look like Sylvia and Billy are the ones on the outside looking in, but it becomes clear that Christopher, Beth and their two hearing children feel just as ostracized. They're all depressed and can't find the right words to explain their predicament. There's a sense of dissatisfaction hanging heavy in the air; this internal unit might not have the tools necessary to relate to the outside world. And this assessment goes beyond sign language and reading lips. Daniel recently broke up with his girlfriend of many years, while Ruth is lost personally and professionally. Beth has started to write a mystery novel, much to the critical chagrin of Christopher.
It soon becomes clear to Billy that his only escape is through Sylvia, but up until he met this new girl, he never realized that he needed to get away from his family.
Raine's two-act play is rich with drama and comedy, but finds its footing in its careful study of how families operate. Language, both spoken and signed, floats around Scott Pask's scenic design in a frenzy. When sitting around this dining room table, our heads turn left and right, almost like watching a basketball game. The balance of emotion is constantly shifting as the family slowly comes apart.
Cromer, who is an expert at creative staging, has made the intimate play even more intimate. Actors will sometimes play their scenes within inches of audience members, while other times the perspective drastically changes. Tribes will remind theatergoers of Cromer's Our Town, which played the Barrow Street Theatre for more than a year. There's probably no other living director who is able to add so much to the written text.
The cast is uniformly excellent. Perry, a co-founder of Steppenwolf Theater Company, is pitch-perfect as the paterfamilias. He's clever, mean and direct, and this makes him at instant odds with his children. Winningham matches him eye to eye, toe to toe. They work so well as a married couple because there's a definitive comfort in their relationship, but they continually challenge each other.
Rankin and Brill are fine actors playing 20-somethings who are realizing they may be younger versions of their parents. Pourfar, who also starred in Cromer's When the Rain Stops Falling, has perhaps the toughest role. When we first meet her, she can hear, for the most part. As the play progresses, the character becomes deaf, but still tries to shake off the inevitable. Knowing what it's like to hear, she wants out of this deaf community.
Harvard, the impressive star of The Hammer, offers a fiercely effective performance as Billy. His struggle with familial love and independence gives the play its most thoughtful and touching arc. He has so much to say, but how does one say what they feel?
By John Soltes / Publisher / John@HollywoodSoapbox.com
Tribes

Written by Nina Raine

Directed by David Cromer

Starring Will Brill, Russell Harvard, Jeff Perry, Susan Pourfar, Gayle Rankin and Mare Winningham

Running time: 120 minutes

Currently playing at the Barrow Street Theatre at 27 Barrow St. in New York City. Click here for more information.

Rating: