REVIEW: David Harrower's 'A Slow Air' is a two-hander filled with pathos and poignance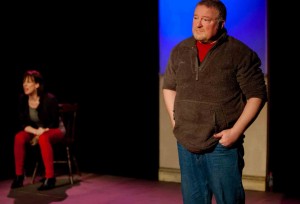 NEW YORK — Sometimes siblings fight. Sometimes siblings are more civil. In David Harrower's new two-hander, A Slow Air, Athol and Morna haven't talked to each other for years, but they're still brother and sister, two souls grown so far apart that they've come full circle.
Set against the backdrop of the 2007 Glasgow Airport terrorist attacks, A Slow Air is a methodical evening where we hear both sides of the story. Athol (a very fine Lewis Howden) stands just a few feet away from his sister, Morna (an equally fine Susan Vidler), but they feel miles apart. There's bad blood between the two, and the only reason they are pulled back into each other's lives is because of Morna's 20-year-old son.
Morna hates Edinburgh, but finds herself in a dead-end job cleaning the houses of the rich in the capital city. She boozes a little too much and holds bitterness like a weight on her shoulder. Only her son keeps her company.
Athol, from the outside, looks to be more successful. He owns his own business and lives near the Glasgow Airport with his wife and children. Much of this life comes crashing to a halt when Athol finds out the perpetrators of the terrorist attack lived in his tight-knit community.
Both Athol and Morna let us know their thoughts through interweaving monologues. They talk about everything in their lives, but largely focus on events of the past. Their upbringing, the birth of Morna's son, their falling out — all of these topics are examined through the theatrical convention of biased speeches by each of the characters. Facts are often contradicted, and the audience is able to play the role of adjudicator for the more serious subject matter.
Throughout the 80-minute performance, which Harrower also directs, we come to enjoy the company of both Athol and Morna. This is in large part to the stellar acting by Howden and Vidler. They become these characters and yearn for our acceptance. Although they share opposite ends of the tiny stage at 59E59 Theaters, where A Slow Air continues through Sunday, April 29, the two siblings seem to complement each other almost perfectly. Athol is mild-mannered and slow to anger, while Morna is finicky and spirited. Both actors play their respective parts as if the past hangs low in the air, as if the pain that families inflict on their loved ones is unbearably resonant for years. There's always a sense of love between Athol and Morna, but it's layered and suffocated by the events of their collective lives.
Harrower's two-hander works, for the most part. Watching Howden and Vidler carve out these characters makes for interesting, thought-provoking theater. The connections to the Glasgow terrorist attacks feels a little strained, as if it were thrown in to tether the story to some news event.
The Scottish accents are surprisingly easy to follow, and Harrower's expertly chosen words help us engage with these stories. We come to appreciate the comfort both Morna and Athol must receive by opening up their hearts and exposing their souls. It's a privilege to be in the same room with them, taking in the pathos and poignancy.
By John Soltes / Publisher / John@HollywoodSoapbox.com
A Slow Air

Written and directed by David Harrower

Starring Lewis Howden and Susan Vidler

Running time: 80 minutes

Currently playing at 59E59 Theaters at 59 E. 59 St. in New York City. Click here for more information. Tickets are $35.

Rating: