'Jesus Christ Superstar' features heavenly singing, but not enough passion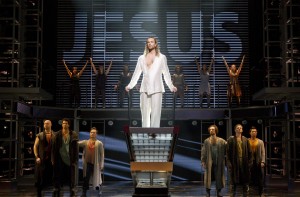 NEW YORK — Jesus Christ Superstar, Tim Rice and Andrew Lloyd Webber's musicalization of the Passion story, is a beloved piece of theater by Broadway and rock 'n roll fans alike. So many of the songs have entered the collective memory of audience members that the rock opera feels like it's eternally playing on the Great White Way. Every couple of years, a new rendition pops up and the electric guitars are dusted off.
Now, director Des McAnuff brings his celebrated version from the Stratford Shakespeare Festival to Broadway's Neil Simon Theatre. The results are oddly off-putting. The talented cast of singers, including an impressive Josh Young as Judas Iscariot, hit all the right notes and breathe fiery life into these biblical people. Even McAnuff's direction is appropriately exaggerated and centered on Jesus (Paul Nolan) as a pseudo rock star. But the totality of the production calls into question the weight and effectiveness of Rice and Webber's work. Jesus Christ Superstar, when put into expert hands, feels somewhat one-note and tertiary.
As rock operas go, there's not a spoken word in the two-hour musical. Every song blasts out from the voluminous stage. From "Heaven on Their Minds" to "Gethsemane" to "Superstar," all of the classics are accounted for. The cast screeches them from a two-tiered set that is covered in LED images and scrolling text. Leave any subtlety at the door.
Nolan is a convincing Jesus. He's peaceful, removed and calm, even though the world around him is filled with sin and misery. Young is the real highlight as Judas, but that shouldn't come as much of a surprise to JCS stalwarts. The Messiah role doesn't get the same arc or songbook as the traitor role. The two-act musical is very much based around the decision by Judas to betray Jesus with a kiss. Much less focus falls on the other apostles, and Mary, the mother of Jesus, is missing from the entire show.
So, Judas, ever the bad boy, gets the spotlight on the Broadway stage, and Young knows how to fill the part. His opening number of "Heaven on Their Minds" starts things off on the right path, and his show-stopping "Superstar" is fun and spirited.
Less effective is Chilina Kennedy's Mary Magdalene, a role that is pivotal in Jesus Christ Superstar. When soothing Jesus and convincing others of her repentance, the actress doesn't get beyond her beautiful singing. There's no sense of characterization or sympathy. "Everything's Alright" should feel almost like a lullaby, but it comes off as a transition song.
Tom Hewitt is commanding as Pontius Pilate, and Bruce Dow is quite funny as an effeminate King Herod. Marcus Nance has perhaps the most impressive voice as Caiaphas.
Everything is mostly in order, but it adds up to a feeling of dissatisfaction. The tunes are catchy, and many diehard fans will mouth the words as they are blasted throughout the theater, but the entire musical fails to stir any emotion beyond musical appreciation. There's no sense that these are characters, or real people, dealing with a crisis and ultimate affirmation of faith. They all seem like extras in a music video, taking to the spotlight, showing off their vocal talents.
Who knew Jesus Christ Superstar had more in common with American Idol than the Bible itself? Has this simply become a classics tape?
Robert Brill's scenic design is splashy and mechanical, but the likes have been seen before on Broadway. It doesn't add much to the overall story. One of these days a full-out production will materialize that will try to recreate the story with a little more flair and detail. Ditto on the costumes by Paul Tazewell.
Rice and Webber have created a musical that's now more than 40 years old. It's still easy to appreciate the songs, but when jumping from our iPods to the stage, there's not enough passion in this Passion.
By John Soltes / Publisher / John@HollywoodSoapbox.com
Jesus Christ Superstar

Lyrics by Tim Rice

Music by Andrew Lloyd Webber

Starring Paul Nolan, Josh Young and Chilina Kennedy

Running time: 120 minutes

Currently running at the Neil Simon Theatre at 250 W. 52nd St. in New York City. Click here for more information.

Rating: