Gianni Di Gregorio's 'The Salt of Life' is a heavenly slice-of-life comedy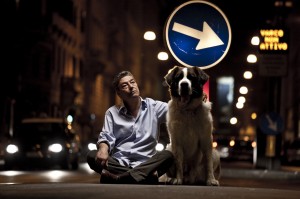 There's something so piquant and positive about Gianni Di Gregorio's The Salt of Life that it's hard not to leave the film without a beaming smile. The 90-minute dramedy follows Gianni (Di Gregorio himself) as he faces an increasingly frustrating mid-life crisis. He's happily married and he adores his college-aged daughter. But as a young retiree with not much to fill his schedule, the man begins to wander the streets of his native Rome like a poet in need of inspiration. What he finds is what many foreigners dream of when visiting Italy: Beautiful Italian women with seductive necklines and an undeniable sexiness.
The problem is that Gianni can't find the time or the gumption to break his marriage vows and find a proper mistress. His elderly mother (Valeria De Franciscis) constantly calls him to cover over and fix the television, make some food and spend some quality time. Gianni loves his mother, but he's not a child anymore. The constant interruptions to his social life hold him back.
Plus, his family's small fortune is quickly evaporating, and efforts by Gianni to become his mother's power of attorney fail miserably.
Gianni does find help from a trustworthy friend who tries setting him up with a pair of identical twins. They eat a nice meal of scrumptious food and fine wine, but it ends when the waiter brings the check. It appears that our main character is stuck in an in-between world: too young to hang out on the street corners with the elderly men and too old to find the love of his of life (or at least a one-night stand).
Although the entire plot revolves around Gianni's sexual exploits, The Salt of Life is tame entertainment. Di Gregorio understands there is much more seductiveness in foreplay than the final act. But the predicament with Gianni is that he can never graduate beyond the flirting and smiles. His failure is not for want of trying. Just about any female character with a pulse falls onto his radar screen. He's as determined to find a mistress as he is to keeping his family together and happy. This makes for an interesting character. At no time do we revile Gianni for the hopeful breaking of his marriage vows. Throughout his ordeal, he remains a dedicated father and somewhat loving husband. It's just that he wants to know whether there is more to life: At 50 years old, can this be it? What if the dynamic of a family is not wholly satisfying?
As an actor, Di Gregorio is understated and affable. As a director, he's simplistic and totally in control. As a writer, he's exquisite, developing scenes where so much is said with so few words. Much of the anguish in The Salt of Life comes from the wan personality of Gianni. He sometimes just sits down, ponders his life and lets the sadness seep in. But when you put another person in his path, especially an attractive woman, he perks up with enthusiasm. He's a character in need of human connection, and Di Gregorio makes him eternally interesting.
The Salt of Life could be brushed aside as an Italian comedy that fits perfectly into the "foreign-language" quaintness of so many movies that make the trip to these shores. But there's something much deeper to Di Gregorio's little film. It may only deal with one man and his many relationships, but on another level it perfectly encapsulates the feelings of so many people who are stuck in the world, unable to augment the future. It's one of the best movies of the year.
By John Soltes / Publisher / John@HollywoodSoapbox.com
The Salt of Life

Written by Gianni Di Gregorio and Valerio Attanasio

Directed by Di Gregorio

Starring Di Gregorio, Valeria De Franciscis, Alfonso Santagata, Elisabetta Piccolomini, Valeria Cavalli and Aylin Prandi

Running time: 90 minutes

Rating: