'Poldark' is a sweeping epic from Masterpiece Theatre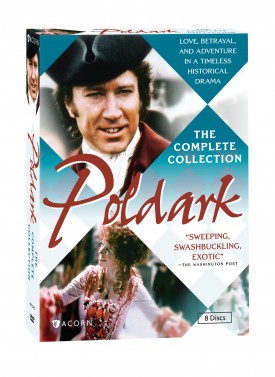 With the recent success of Downton Abbey, costume dramas have regained the spotlight and are looking to recapture the hearts of television viewers around the world. Acorn Media Group satiates the palates of Americans looking for quality British television with its new collection of the epic Poldark series. Presented on eight discs and with helpful subtitles for those New Worlders unable to follow the accents, the DVD set brings together some of the best historical drama to hit the airwaves.
Robin Ellis plays the title character, a man recently returned to the Cornish coast after fighting in the American Revolution. He's tired from his journey, but excited to see his long lost love, Elizabeth (Jill Townsend). What he finds in his hometown is somewhat disconcerting. Captain Ross Poldark's father has died, his uncle has inherited the estate, Elizabeth is engaged to his cousin and one of the mines on his father's property is up for sale to a local businessman with cruel intentions. A lot can happen when one thinks a person has died.
The episodes in Poldark, which run approximately 50 minutes, chart the captain's uneasy integration back into the life he left behind. He's a determined person, unwilling to accept "no" for an answer. If he wants Elizabeth, he will have her. If he wants George Warleggan (Ralph Bates) to stop snooping around the mines, he will kick him off the property.
For an historical drama where the audience is meant to show sympathy for the title character, Ross Poldark is somewhat atypical. He commands everyone's attention and, in his heart, he's a good man. But his delivery can be harsh and his ways very peculiar. The second episode of the series, for example, opens with Ross buttoning up his shirt after a session with a local prostitute. Perhaps that was more appropriate in the 18th century, but it still keeps the hero at a distance. It's tough to decide whether to like this man or not.
The scenery for the show is nicely detailed and rich in design. From the costumes to the sets, it's quite easy to be transported back in time. Of course, this is a late-1970s television show, so not everything is perfect. The colors are faded and the lens used to film the series makes everything look more theatrical than cinematic. There are similarities to Downton Abbey, especially in the complexity of the family relationships and the importance of inheritances, but the look and feel are decidedly different.
Poldark remains a standard-bearer in the long history of BBC original content. More than 40 years after its initial debut, the show can still win many hearts. This is largely because of Winston Graham's original texts, which are rich in details and feature clever storytelling. He created a character that doesn't fit any mold or stereotype. Viewers will judge for themselves, but it's likely they will like and dislike the captain, and sometimes these feelings are simultaneous. He's such a stern judge of character that it takes a while to get used to his mannerisms and sayings. He doesn't like drunkards or people with no self-respect, but for those people willing to change, his heart proves to be an accepting one.
It's also a credit to Ellis that Poldark feels so fascinating in these two assembled seasons. With a scar running down his cheek, his long hair blowing in the wind and his eyes set on the future, the captain looks like a romantic, but deep down he's far more complicated.
Poldark has all the elements of high drama, and it executes on its promise to invigorate the audience for the long haul of 29 episodes.
By John Soltes / Publisher / John@HollywoodSoapbox.com
Poldark

The DVD collection from Acorn Media Group includes all 29 episodes (approximately 25 hours), plus "Getting the Part" by Robin Ellis, cast filmographies and historical background on Cornwall.

Based on the books by Winston Graham

Starring Robin Ellis, Angharad Rees, Ralph Bates, Jill Townsend, Jane Wymark, Kevin McNally and Judy Greeson

Rating: