One father tries to keep everything together in 'Headwinds'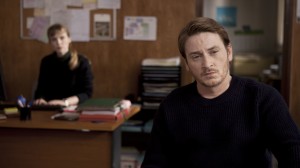 Jalil Lespert's Headwinds (Des Vents Contraires) deals with the difficulty of moving on. Paul (Benoît Magimel) loves his family and gathers much satisfaction from his literary career. He doesn't make much from his "dull" novels, but his wife, Sarah (Audrey Tautou), has a good-paying job. Their son and daughter are young enough to still cling to their parents, and everything seems to work out nicely.
Within 5 minutes of Lespert's new film, which will play the Rendez-vous with French Cinema Festival in New York City, everything comes undone. Although details are lacking, Sarah goes missing and Paul needs to decide when to come to terms with the loss. The transition between "then" and "now" is almost instantaneous; we go from family love to one year later and family strife. Paul is a changed man. His poor novel sales hang over his head. His children resent not having their mother around. Everything seems lost and confused.
To get away from the monotonous dreariness, the family moves to Paul's hometown, where he takes a job at his brother's student driver business. The employment opportunity gives him a chance to meet new people, and it's through these conversations that he begins to see the potential for a different life without the presence of his wife.
Whether it's a young woman he's attracted to or a man trying to put the pieces of his life back together after a drunk-driving incident, the connection to these similar lost souls comforts Paul. It doesn't solve the problems he still has with the local police who consider him a suspect in his wife's possible abduction, and it doesn't always mean he's the perfect father to his children, but it does help him understand that there might be something worth living for.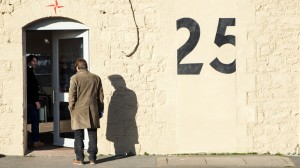 Magimel is impressive in the lead performance. The movie features many fine actors, but for most of its 91 minutes, Headwinds is a solo piece. We watch Paul work through the impossible emotions of realization. With each passing day it becomes clearer that he will be a single parent with the weight of the world hanging on his shoulders. He's worried that he won't be able to provide financially and emotionally for his two heartbroken children. He loves them unconditionally, and he's a good father, but that doesn't mean his life is easy. Magimel makes us believe in Paul's anguish and his ultimate redemption.
Lespert, who wrote the screenplay with Marion Laine and Olivier Adam, has a somewhat strange way of telling his story. It's chronological and easy to understand, but the introduction of new characters comes unexpectedly and takes Paul away from his main story arc. But that's also one of the joys of Headwinds: It never follows a typical rubric. We watch Paul organically grow into his new role, morphing from grieving husband to thoughtful father. Along the way, he meets many new friends, most of whom teach Paul a lesson or two about life.
Watching Headwinds is not a joyous movie, by any means. It deals with good people stuck forever in difficult circumstances. But within their trapped reality, Paul, his children and their support circle find a comfortable possibility for continuing into the future.
By John Soltes / Publisher / John@HollywoodSoapbox.com
Headwinds

In French, with English subtitles

Directed by Jalil Lespert

Written by Lespert, Marion Laine and Olivier Adam

Starring Benoît Magimel, Bouli Lanners and Audrey Tautou

Running time: 91 minutes

Featured in the Rendez-vous with French Cinema Festival in New York City. Click here for more information.

Rating: