Joan Rivers hosts comedy legends on 'That Show,' now available on DVD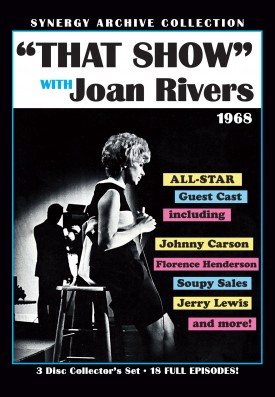 There's no one quite like Joan Rivers, and there probably never will be. The famous funny girl with the unique style of talking a mile a minute has given fans several outlets over the years to hear her comedic thoughts. One of the earliest was That Show, a daytime talk show that broadcast on WNBC-TV in New York City and is now available on DVD from Synergy Entertainment.
The 1968 time capsule features Rivers having a discussion with an "expert" guest and celebrity. Although some of the humor is quite dated, many of the laughs hold up more than 40 years after That Show's original airing.
Each episode begins with a brief monologue, when the comedienne tells her jokes in that very characteristic style. Rivers knows how to begin sentences, but she never quite finishes them. So enthusiastic and prone to laughing herself, her thoughts stray from one subject to another within the blink of an eye. Watching her perform in these early days is like watching a teenager on Red Bull. She buzzes around — always funny, but never sitting still.
After the monologue, the guests take center stage and the formal conversing begins. The topics included on the 18 episodes of Synergy's three-disc set run the gamut. Legendary milliner Mr. John stops by to talk ladies fashion with Joel Grey, while Johnny Carson discusses nudity with a nudist from New Jersey. Soupy Sales is quite funny in two episodes, while Steve Lawrence discusses singles resorts in upstate New York.
The topics are varied and often provide Rivers a plethora of comedic material. From teenagers to catering to hypnosis and speed reading, the expansiveness of That Show is one of its strongest suits.
The most telling episode involves Jerry Lewis, who might look back at this morsel of broadcasting with regret. During a somewhat engaging dialogue on children in show business, Lewis talks about how he spanked his son so hard it left welts. The DVD might not make 2012 audiences laugh with delight, but it does allow a window into our not-so-distant past.
Strangely, many of the celebrities on Rivers's show come off much more conservative than the invited guests. Many of them balk at discussing sex and gender before a live studio audience. Rivers knows the limitations of the subject matter, but she cleverly keeps the conversations edgy and on topic. Brimming beneath the surface of these short dialogues is a 1968 sentimentality and evidence of the social movements instigating change.
Synergy's DVD release preserves 18 episodes on three discs, and many of the transfers are clear and crisp. That Show was not revolutionary television, but the structure of taking questions from the audience, discussing the hot topics of the day, pairing unusual guests with even more unusual celebrities has not been forgotten. Rivers, much like her standup work, was a TV revolutionary. She helped to create a format where people opened up about their personal lives. Oprah Winfrey and the women of The View owe her a debt of gratitude.
Of course, it's hard to dig too deep into these social issues when the host is constantly laughing. But that's Joan Rivers; she's never 3 seconds away from the next laugh.
By John Soltes / Publisher / John@HollywoodSoapbox.com
That Show with Joan Rivers

1968

Featuring Joan Rivers, Johnny Carson, Joel Grey, Carol Lawrence, Jerry Lewis, Soupy Sales, Steve Lawrence, Dick Cavett, Florence Henderson, Phyllis Newman, Kitty Carlisle, Abe Burrows, Sam Levinson, David Suskind, Nancy Walker, Earl Wilson, Orson Bean and Shecky Green

Running time: 412 minutes

18 episodes

Rating: