'The Way' is a contemplative look at pilgrims in search of meaning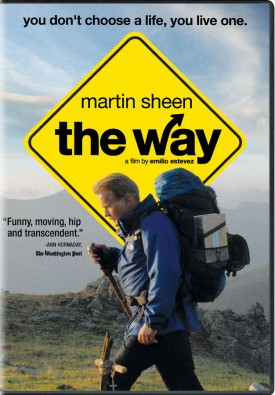 The new movie from Emilio Estevez asks us to join a soul-searching pilgrimage along The Way of St. James, also known as "El Camino de Santiago." The windy road, stretching hundreds of miles in northern Spain and France, is a common stomping ground for people looking for deeper spirituality and an improved connection to the world.
We walk these miles through the eyes of Tom (Martin Sheen, Estevez's father), an ophthalmologist who has recently traveled to France after hearing of his son's death on the Camino. After seeing the dead body of Daniel, his estranged son (played by Estevez himself), Tom decides to make the two to three month trek with just a bag of ashes to keep him company.
The movie moves from a solo piece to an ensemble work when Tom meets up with some fellow travelers on the road, including Joost (Yorick van Wageningen), Jack (James Nesbitt) and Sarah (Deborah Kara Unger). Each of them have their own reason for making the pilgrimage. Joost, a portly Dutch man, seeks to lose some weight. Jack, an Irish writer, seeks inspiration for his next book. Sarah, a Canadian with a sardonic personality, wants to quit smoking. Tom is the only one looking to achieve the seemingly impossible task of making amends with his son's legacy.
Most search for meaning, while Tom searches for reconciliation.
The Way is a powerful film that will appeal to anyone wishing for a fresh start or transition in life. Watching these four kindred spirits make their way through Spain, with only the well-worn path of former pilgrims as their guide, is inspiring in a quietly contemplative manner. It doesn't take long for these four people to form a self-reliant group, and watching them lean on one another for strength and inspiration makes for vivid filmmaking. This may be Estevez's finest directorial effort to date, and to have his father in such a powerfully understated performance must be something special.
A movie about walking can quickly become a bore, but The Way keeps everything fresh and interesting throughout its 121 minutes. With each passing hill, the pilgrims enter a new world, a new town, a new adventure. They never have to fight the elements or wildlife; thankfully, the movie doesn't turn into a suspenseful drama. It remains calm, steady and thoughtful all the way to the inevitable end.
Sheen is marvelous as Tom, a grieving father who can't offer his son anything but this journey. It's not a flashy part and there are few stereotypical scenes where he breaks down emotionally. The script, written by Estevez, is much more nuanced than falling into the usual traps of so many sentimental journey films. The lessons that Tom learns on the road come almost organically, much like real life.
There's not much of a climax, and the movie ends in very much the same way that it began. Tom decides to wrestle with life's biggest problems by heading out on the road and sharing his difficulties with the people he encounters. This doesn't mean that El Camino de Santiago leaves him unchanged — far from it. At the beginning, this older man was set in his ways, comfortable in his success as a doctor and mostly secular in his religious beliefs. By the end, with the ashes of his son dispersed along the journey, Tom's eyes have opened wide. He's now a member of a global community. He's now an accomplished pilgrim. He's now acting like a father.
The Way is one of the best surprises of 2011. It's a movie daring in its simplicity and inspirational without trying too hard. One wishes they could be on the road and join with these travelers, hoisting a glass of wine to good health, good weather and a good life.
By John Soltes / Publisher / John@HollywoodSoapbox.com
The Way

Written and directed by Emilio Estevez; based on a story by Estevez and selected stories from Off the Road: A Modern-Day Walk Down the Pilgrim's Route by Jack Hitt

Starring Martin Sheen, Estevez, Deborah Kara Unger, Yorick van Wageningen and James Nesbitt

Running time: 121 minutes

Rated PG-13 for some thematic elements, drug use and smoking

Rating: