'CQ/CX' REVIEW: The day when the NY Times wasn't the 'newspaper of record'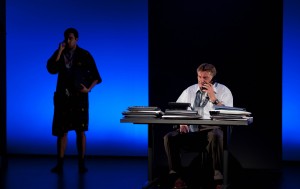 CQ/CX, the Atlantic Theater Company's new play currently running at the Peter Norton Space in midtown Manhattan, is a dramatic retelling of the salacious Jayson Blair scandal that rocked The New York Times almost a decade ago. Although the character names are changed, it doesn't take a detective to realize that playwright Gabe McKinley, a former Times reporter himself, is resurfacing the details of the headline-grabbing plagiarism case.
As a story, the Blair scandal is complex, unsettling and unfortunate. As a play, the story makes for an intermittently riveting two hours. There are some holes in the storytelling and not every acting performance works as well as it should, but CQ/CX still provides a great deal of introspection on journalism ethics, affirmative action and the inner-workings of the world's most famous newspaper.
Jay Bennett (Kobi Libii) is the stand-in for the Blair role. He's a young, tenacious reporter that scores a coveted internship at The Grey Lady. His more than 300 stories on the underbelly of New York City attract the eyes of some editors, but from this earliest part of his career, a few red flags begin surfacing. He's sloppy with some details and has his fair share of corrections (CQ/CX are abbreviations used by copy editors).
When time comes to either promote Bennett or let him go, he receives the endorsement of the managing editor, Gerald Haynes (Peter Jay Fernandez), but not the recommendation of the metro editor, Ben (Tim Hopper). McKinley explores this pivotal decision: Jay and Gerald are black, while Ben is white. Does each man's race play a factor in Bennett's escalation?
Arliss Howard, playing Hal Martin, the southern-drawl executive editor, is perfectly cast as the new leader at the paper. He has high aspirations for the potential of the young staff, and he wants to reinvent the Times for the 21st century. In light of Bennett's eventual plagiarism and fabrication, his edict is seriously called into question.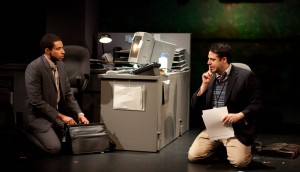 David Pittu, a theatrical treasure, plays Junior, the kind-hearted publisher of the newspaper who throws his support behind Gerald and Hal, despite the seemingly insurmountable obstacles of the scandal. Steve Rosen, who turned in a hilarious performance in last season's Peter and the Starcatcher, and Sheila Tapia play Bennett's only friends in the world — two confidants not willing to follow his self-destructive path to cocaine and unprofessionalism.
The characters all make for a nice microcosm of a newsroom staff. All levels are accounted for, from the publisher down to the novice reporter. Much of the dialogue is surprisingly accurate. Too often journalism is seen under the Woodward-Bernstein lens, as if everyone is uncovering governmental malfeasance at every turn. Sometimes journalism can be a slog through important, but somewhat dull, beat reports. CQ/CX tracks all aspects of the profession, at least as it relates to The New York Times.
There's one great scene where Bennett, before he has turned into Darth Vader, has one of his stories about a mall in Edison, N.J., go from the front page to the back of the A section. It would have only remained top news if the facts were somewhat tweaked and massaged. For most people, that would be a good lesson on what it took to find the next big story. For Bennett, that lesson was like a weed, spreading itself into his brain and telling him to pump up the details of his stories to receive better placement.
Much of the cast is brilliant, including Pittu and Howard. I also loved Larry Bryggman as Frank King, a mysterious person who floats around the play with not much to do. I take it that he's an allegorical character, a person of a past era to stand up against the changes of a new generation. To be honest, any subtext about his character was lost one me. I just thought Bryggman was a delight to watch, whether or not he fit into the overall narrative structure.
Libii struggles with the central character. There's never a feeling of what makes this person tick and why he commits certain journalistic sins. Because the play is chiefly about the scandal, one would have hoped for a little more characterization. When Bennett pulls out some cocaine in front of his friends, it's jarring. When Bennett begins making up details about stories, it doesn't seem to fit. Yes, this might be truthful; after all, Blair blindsided the Times and its editorial staff. But in a play format, it feels lacking in detail. Unlike real life, a dramatization is able to go behind closed doors and look closer at a person's psyche. Unfortunately, in CQ/CX, this pivotal aspect is missing. We are only given the "public" Bennett, and never learn about the private one.
David Leveaux directs the two-act piece with a quick pace, which seems entirely appropriate for the journalism profession. Everyone seems running around here and there, never tethered to one spot for too long. Perhaps that's one of the reasons Bennett is able to fly under their radar: Everyone is too damn busy.
David Rockwell's sets, which feature sliding panels, look nice, but they never achieve their purpose. On more than one occasion at the performance I attended, an actor had to jet around the moving panel before he got hit. It's slick to the eye, but doesn't add much.
McKinley has crafted a timely, provocative play that achieves its goals most of the time. Its held back by never digging deeper than the public record. Even when discussing affirmative action and the role that race played (or didn't play) in the undoing of Jay Bennett, the play doesn't add too many new thoughts.
Still, CQ/CX is able to draw much emotion from this "based-on-a-true-story" tale, and at times, the play is quite riveting, almost like a cinematic thriller. But unlike some action movies, in this one, we want the bad guy to be caught.
By John Soltes / Publisher / John@HollywoodSoapbox.com
CQ/CX

A production of the Atlantic Theater Company

Written by Gabe McKinley

Directed by David Leveaux

Starring Larry Bryggman, Peter Jay Fernandez, Tim Hopper, Arliss Howard, Kobi Libii, David Pittu, Steve Rosen and Sheila Tapia

Running time: 120 minutes

Currently playing at the Peter Norton Space at 555 W. 42nd St. in New York City. Click here for more information.

Rating: