'POIROT' REVIEW: The Adventure of the Clapham Cook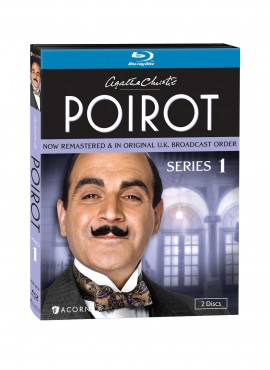 David Suchet was born to sport a small mustache with little curls at either end. The skilled actor has brought Agatha Christie's Hercule Poirot to life so many times that this Belgian detective has entered a coveted spot in our collective memory. It's almost as if Poirot (pronounced Pwa-row) has become a reliable crutch for TV audiences; as an all-knowing sleuth, solving mysteries with his unorthodox detective skills and unparalleled good manners, we've come to rely on the character as a dependable presence in our TV-viewing lives.
In his series debut, dubbed The Adventure of the Clapham Cook, our lovable detective finds himself in between assignments, looking for his next job. He's not interested in the many suggestions from his partner, Captain Hastings (Hugh Fraser). The detective, who has an impeccable taste for suits and social conventions, doesn't want to jump into a new case without some pre-inspection. If the mystery is too small in scope, he could lose some of his reputation with Chief Inspector Japp (Philip Jackson).
It's quite odd when Poirot agrees to investigate the case of a cook who recently left the the Todd residence. Mrs. Todd (Brigit Forsyth) is positively baffled that Eliza Dunn (Freda Dowie) would leave her job so suddenly and wants to know more information.
The missing cook seems quite trivial to Hastings, but Poirot believes there's something darker lurking beneath the surface. The Belgian detective sets out to solve the mystery, and so goes the first episode of the great Poirot series.
Acorn Media recently released Series 1 of Agatha Christie's Poirot on Blu-ray, and the company's presentation of the classic episode is beautiful. London in the 1930s never looked more elegant or refined. And, thankfully, much of the dialogue, intrigue and comedy hold up more than 20 years after the show's original release.
The Poirot character is serious about his adventures, but there's a nice comedic touch to his proceedings. This is a man, much like Sherlock Holmes or other turn-of-the-century literary characters, that doesn't quite fit into the society around him. The fact that Poirot is Belgian immediately sets him apart from the English crowd, and he constantly needs to tell people how to pronounce his name. "I am not French. I am Belgian," he likes to say, time and time again.
It's no wonder that Christie's successful novels have adapted so well to serialized television. These "mystery of the week" specials provide digestible suspense and fine characterization, all within the constraints of 50 minutes. It's not deep drama, but it still resonates.
Enough cannot be said of Suchet's performance. Much of the series would feel trite and secondary if he didn't completely give himself over to the part. The skilled actor plays the detective as an unusual, somewhat prickly fellow who makes most people around him uncomfortable. He speaks with perfect diction, using excellent vocabulary and a rhythmic cadence that instantly makes him feel like a member of high society. But as The Adventure of the Clapham Cook and his other mysteries clearly show: Poirot is a member of no group. He's as unattached to the hobnobbing crowd as he is to the beggars on the street. This man is, quite simply, a unique person — created by Christie, made infectiously entertaining by Suchet.
By John Soltes / Publisher / John@HollywoodSoapbox.com
Agatha Christie's Poirot: Series 1

Starring David Suchet, Hugh Fraser, Philip Jackson and Pauline Moran

Running time: 50 minutes per episode

Acorn Media's 2-disc Blu-ray set includes 10 mysteries, all remastered and restored to their original UK broadcast order. Click here for more information. The collection is also available in a 3-disc DVD set.

Rating: