REVIEW: William Shatner opens on Broadway in 'Shatner's World'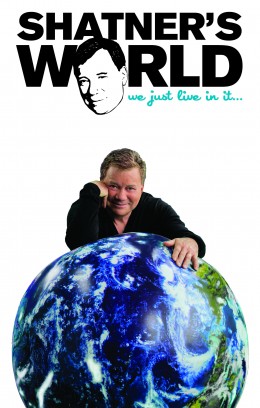 William Shatner is the definition of iconic. He's so iconic that he puts the adjective on the Playbill for his new one-man Broadway show, Shatner's World: We Just Live in It. Now that's a forthright gentleman.
The man has been there and done that, and now he's taken 90 minutes of his time and our time to rehash the highlights of his varied career. From boldly going where no man has gone before on Star Trek: The Original Series to his devotion to all things equestrian, the Canadian-born actor has had a fruitful career lasting more than half a century.
In a laid back, almost feel-good evening, often with Shatner sitting in a rolling office chair, the actor brings us through his soup-to-nuts life. From his early years in Montreal, lusting after a burlesque performer at a local theater, to his baptism by fire at the Stratford Shakespeare Festival, where he filled in for Christopher Plummer as Henry V, the performer's earliest memories are interestingly conveyed. Born into a working-class family with supportive parents, the young man enjoyed the thrill of live performance and even appeared in a couple of Broadway shows.
After these early theatrical experiences, the ordinary ceased and the William Shatner that we've come to know and love took over. The actor received his big break (and most recognizable role) as Captain James T. Kirk on the USS Enterprise in Star Trek, the TV brainchild of the great Gene Roddenberry. The influential sci-fi show made Shatner a household name and forever immortalized him in the annals of TV history.
In Shatner's World, we don't hear war stories about long days in the desert fighting the Gorn, or his friendship with Leonard Nimoy or relationship with Roddenberry. The one-man show is much more interested in personal exploration, leaving aside the career highlights for deeper introspection on why the actor has made one particular life decision after another. Shatner calls it the power of saying "yes," and although the slogan is corny, after sitting with the actor for 90 minutes, it's hard to deny his belief in the edict.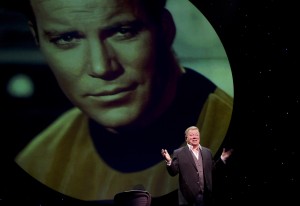 Shatner speaks before a large circular screen that either shows an image of Earth or a clip from his career. Much of the night is told chronologically, but the actor lets flexibility take over when discussing his passion for horses, his love for family and his struggles in the years following Star Trek.
The subject matter is enthralling, and this octogenarian knows how to spin a yarn. Using his distinctive voice and measured line delivery, Shatner speaks like no other actor. He emphasizes words, shouts phrases and uses language like monkey bars.
The one-man show can't quite catch up to his uniqueness. Two lamp-lit desks bookend the proscenium, but they are never really used. The only "staging" is when Shatner rolls around in that annoying office chair, using it to mimic a bedroom, car and horse. A little more theatricality wouldn't have hurt.
Some may criticize his glossing over of some details. Although Star Trek makes up a nice chunk of the proceedings, there are no new insights to the Kirk character, at least not for people who regularly attend Star Trek conventions. His time on TJ Hooker is completely skipped, while there's a small section on Boston Legal.
The focus can really be found on his earliest years and that initial decision to jump from Montreal into the life of an actor, plus his most recent years and his success as a recording artist. Although this may frustrate some, it makes for nice revelations. Here's a man performing on Broadway, a feat he hasn't done in 50 years, and rather than talking about the Emmy Awards and Priceline Negotiator, he has decided to throw his indomitable skill behind smaller anecdotes about his upbringing, his first acting jobs and his undying fascination with horses.
It's his discussion of the equestrian world that finds Shatner the most relaxed, with a beaming face and sense of pride. He talks about his horses as if he's unable to see his life without them. If one looks close enough, they might even see a tear come to the eye of this 80-year-old who has been there, done that and has the legacy to prove it.
Forget the final frontier. Shatner just needs a saddle and trustworthy four-legged friend — and an audience, of course.
By John Soltes / Publisher / John@HollywoodSoapbox.com
Shatner's World: We Just Live in It

Directed by Scott Faris

Starring William Shatner

Running time: 90

Currently playing the Music Box Theatre at 239 W. 45th St. in New York City. Click here for more information. Broadway performances continue until March 3, and then Shatner takes his show on a U.S. tour.

Rating: