TOY FAIR 2012: Star Wars Scene It?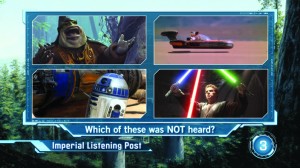 NEW YORK — Toy Fair 2012 has come and gone, but the aftermath of the mega-industry event will be felt for months. As consumers get ready to enjoy the latest action figures, games and toys, Hollywood Soapbox offers a guide on some of the best offerings at the convention.
Star Wars Scene It?
Movie Night Scene It?
Available fall 2012
The ultra-popular Scene It? game from Screenlife has several milestones to promote in 2012. Besides celebrating its 10th anniversary, Scene It? is getting ready to launch two new products that will surely entice consumers.
The first entry is a slick updating of the original movie game. Players will have the chance to test their film trivia with a motley variety of fun categories. There are new movie clips, plus many more questions than previous editions. A few of the new flicks that will be included: Wayne's World, Paranormal Activity, Cloverfield, The Naked Gun and even Bridesmaids.
Besides new content, the game will be available on DVD or streaming through a web-enabled device. Think of this as an interactive Netflix account.
Although an updating of the classic movie trivia game is welcome news, it's completely eclipsed by Star Wars. Screenlife has finally partnered with the George Lucas saga, and the results promise to be enthralling.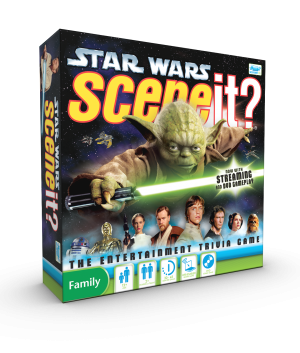 At the company's Toy Fair booth, I had the chance to navigate the new Star Wars game.
In a word: Awesome.
This is the trivia game that Star Wars fanatics have been waiting for. It doesn't dumb down the questions. Instead, it presents challenging puzzles and clips that will test the knowledge of any level of fan. Players with a passing interest in the franchise should be able to hold their head above water, while obsessed fanboys and fangirls will delight in all the references and tidbits about the Jedi universe.
A few pointers: The questions are pulled from all six films, so you'll need to brush up on both the original trilogy and the most recent one.
One of the new features of the game is called "Jedi Archives," which "challenges players to solve puzzles utilizing behind-the-scenes film assets, from storyboards, production stills, concept art and more," according to an official press release. I experienced this category first-hand, and it's a treat for Star Wars fans. I was shown different conceptual images of Ewoks and how they developed over time. The first image looked like a mini Bigfoot, while the second and third image moved closer to what fans will recognize as the cuddly teddy bear look. The final image is the actual Ewok model they used in Return of the Jedi.
Other categories include "Finish the Line," which asks players to complete a line of dialogue from a film, and "Imperial Listening Post," which tests your knowledge of Star Wars sound effects.
Both new versions of Scene It? are intended for the 13 and over crowd. These highlights of Toy Fair are must-buys, so chisel that pencil and get ready to write a new list for Santa Claus.
By John Soltes / Publisher / John@HollywoodSoapbox.com