'Porgy and Bess' impresses once again in a first-rate production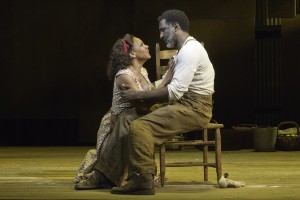 Before the curtain rose on the first preview of The Gershwins' Porgy and Bess at the Richard Rodgers Theatre on Broadway, the production had a reputation. Stephen Sondheim, the great American composer, lambasted the creative team for making changes to the classic opera. That diatribe hit the media a few months ago. Since the show opened on the Rialto, there's been nothing but raves for this exquisite production.
Sondheim's point was an interesting one, but the brilliance on display on 46th Street in New York City transcends criticism. It's a slimmed-down, sleek look at the tortured romance of the crippled Porgy (Norm Lewis) and the convoluted Bess (Audra McDonald). With excellent performances from the stellar cast, and a fine focusing on the central plot, the two-act musical feels fresh, vivid and visceral. There's more emotion on the expansive stage of the Richard Rodgers Theatre than most others on the Great White Way — combined.
To call Porgy and Bess the highlight of the theater season so far is an understatement. It has blown away expectations and deserves a healthy run.
All of the great songs by George and Ira Gershwin are accounted for. From "A Woman Is a Sometime Thing" to "Bess, You Is My Woman Now," the music and lyrics never sounded more authentic and more moving. McDonald and Lewis, who hold much of the show on their shoulders, know how to breathe life into each phrase, making us believe in the merits of the words they sing. These are two despondent souls in search of human connection. They are not a match made in heaven — far from it, actually. But they still make it work; cast-aside creatures often come together.
The setting is Catfish Row in 1930s South Carolina. Bess is going with Crown (a superbly horrifying Phillip Boykin), the bully of the local neighborhood. When he walks, people look. When he talks, people listen. He's accustomed to beating Bess, and, although it's never explained, there's a good chance that the scar on her cheek is the result of a bad altercation with the big guy.
When we first meet Bess, she comes off as the village prostitute, a woman happy to show a little cleavage and flirt with the married men. McDonald, an accomplished actress who has won four Tony Awards, gives the character a simultaneous broken side. She has a rough exterior that seems to point toward her independence as a woman, but deep down she's scared and trembling.
Bess' relationship with Porgy is born of blood. When Crown kills a local man in front of everyone after a craps game, he runs from the police and leaves Bess in Catfish Row. The neighbors want nothing to do with her, so it's Porgy's responsibility to take her in.
The love relationship that blossoms between the title characters is sweet and simple. They are two people who have been there and done that; they are no longer spring chickens and don't need too much puppy-dog romance. They both seem like people in need of some company: Porgy is ostracized for his crippled leg, while Bess is ostracized for her connection to a killer. These unlikely love birds find themselves in similar circumstances and in need of the same thing.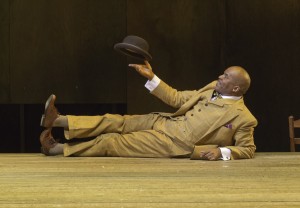 Suzan-Lori Parks and Diedre L. Murray have updated the storyline a bit, mostly by editing some scenes from the overall framework. This gargantuan opera now runs two hours and 30 minutes, and although purists will bemoan the cuts, there's no denying that a finer focus is achieved. Ronald K. Brown's choreography is original and filled with creativity; it feels like these dance steps were expressly made for the people of Catfish Row, as if their moves are an extension of their personalities.
Paulus directs the piece with a keen eye for reducing the melodrama and heightening the raw emotion. This is a production that has a no-frills set by Riccardo Hernandez and not too many beeps and whistles. Again, it achieves that fine focus on the Gershwins' songs and these eternally interesting characters.
Besides McDonald and Lewis, both of whom are pitch-perfect in their respective parts, David Alan Grier turns in a nicely held-back comedic performance as Sporting Life, the local scam artist who has one foot in Catfish Row and the other in the outside world. He's the only one with some money, and he likes to show it off with snazzy suits and a genteel persona.
NaTasha Yvette Willians also shines as Mariah, the neighborhood's motherly figure. Her singing voice is powerful, and her advice is heeded by the other characters.
This new production of Porgy and Bess reminds New York theatergoers that classic shows, when done right, can still elicit deep emotional reactions. The inhabitants of Catfish Row still have so many stories to tell, and we, as audience members, have so many lessons to learn. The show recaptures the importance of why this opera still resonates so strongly.
By John Soltes / Publisher / John@HollywoodSoapbox.com
The Gershwins' Porgy and Bess

Music by George Gershwin

Libretto and Lyrics by DuBose and Dorothy Heyward; lyrics by Ira Gershwin

Directed by Diane Paulus

Additional scenes and adaptation by Suzan-Lori Parks

Musica adaptation by Diedre L. Murray

Choreography by Ronald K. Brown; scenic design by Riccardo Hernandez; costume design by Eposa

Starring Audra McDonald, Norm Lewis, David Alan Grier, Phillip Boykin, Nikki Renée Daniels, Joshua Henry, Christopher Innvar, Bryonha Marie Parham and NaTasha Yvette Williams

Running time: 150 minutes

Currently playing at the Richard Rodgers Theatre at 226 W. 46th St. in New York City. Click here for more information.

Rating: