REVIEW: Dean Cain, Juliana Paes star in 'Bed & Breakfast,' now out on DVD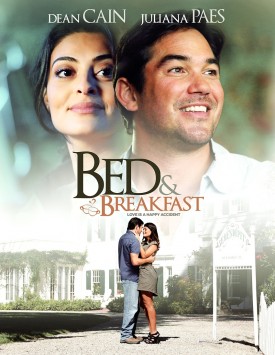 Sometimes audience members just have to give in and let a movie's formulaic structure win them over. Such is the case with Bed & Breakfast: Love is a Happy Accident, a harmless romantic comedy that is predictable, corny and somehow entertaining. If the true measure of a film is whether or not it can leave you smiling, then Bed & Breakfast is a winner.
Dean Cain plays Jake Sullivan, a good guy in a difficult situation. His celebrity wife has left him in the dust, and the tabloid magazines are running rampant over rumors and marital secrets. His only solace away from the hoopla is a bed and breakfast he inherited in California's wine country. Away from the paparazzi and his toxic wife, Jake is able to enjoy the smaller things in life, like the funny one-liners of the local police officer (a very funny Bill Engvall) or the companionship of his lovable dog.
As Jake readies the bed and breakfast for its grand opening, we follow the parallel story of Ana Villanova (Juliana Paes), an attractive woman living in Rio de Janeiro, Brazil. Her fiancé is a beach bum, and her beloved father has just died. Expecting a rich inheritance, instead, Ana finds that she owes a ton of money to the bank. The only asset of her father's that may be worth money is an old bed and breakfast in California once owned by her grandmother.
You can see where this is going?
Ana and her lawyer (Julian Stone) decide to pose as tourists from Spain and travel to Jake's little abode. Once there, it doesn't take long for the façade to drop and Ana to start asking for what's rightfully hers. Jake, though, doesn't give up without a fight. If this Brazilian woman wants the B&B, she's going to have to earn it.
The film, released by Green Apple Entertainment, follows a path that will prove instantly recognizable to most audience members. Jake and Ana hate each other, dislike each other, are OK with each other, like each other and then fall maddeningly in love. The reversal of emotions is a tried-and-true tactic of most romcoms, and Bed & Breakfast never tries to escape the usual ingredients.
Still, as a comedy, many of the jokes are quite funny, and the one-note characters are easy company to enjoy. Julia Duffy, John Savage and Eric Roberts all turn up in supporting roles that add a nice touch to the landscape. However, Roberts exaggerates his impression of an effeminate food critic to the point where the role feels strangely offensive.
Leland Douglas' script is serviceable, and director Marcio Garcia keeps things flying by without too much time to take a breath. At only 89 minutes, the film knows how to check in and check out without much fanfare. The movie would have blossomed as a TV presentation, maybe on The Hallmark Channel or Lifetime. Its simplicity seems readymade for commercial breaks and sappy romantics.
Cain, an underused actor in Hollywood, dedicates himself to the part and comes off as likable and good-hearted. His backstory about being a nobody and marrying a celebrity actress feels too pushed, but the actor keeps everything down to earth. Paes, who is absolutely beautiful, finds a nice chemistry with Cain. Unfortunately, their characters need to fall in love through a sped-up montage sequence that discredits the believability of the story.
Bed & Breakfast is not looking for an Oscar or big box office numbers. Its purpose is like a glass of wine from a box: It serves its purpose and probably will leave a smile on your face.
By John Soltes / Publisher / John@HollywoodSoapbox.com
Bed & Breakfast: Love is a Happy Accident

Directed by Marcio Garcia

Written by Leland Douglas

Starring Dean Cain, Juliana Paes, Eric Roberts, John Savage, Julian Stone, Julia Duffy and Bill Engvall

Running time: 89 minutes

DVD special features: making-of featurette, photo gallery, trailer and closed captioning.

Rating: