INTERVIEW: Jennifer Grace discusses her journey with Emily Webb in 'Our Town'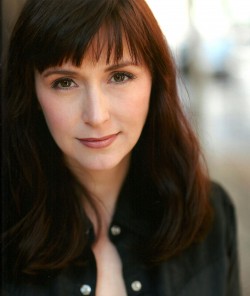 SANTA MONICA, Calif. — Over the past four years, actress Jennifer Grace has lived in Grover's Corners, studying for high school, falling in love with the boy next door and facing the self-awareness of her own mortality. As Emily Webb in David Cromer's critically-acclaimed production of Thornton Wilder's Our Town, Grace has taken the stage in Chicago, New York City and now Santa Monica. She has been with the role for longer than any other actress in history, and as she nears the end of her journey, Hollywood Soapbox had the chance to talk with the actress about her time in the town we all seem to know.
Our Town continues at The Broad Stage in Santa Monica through Sunday, Feb. 12. Academy Award winner Helen Hunt plays the Stage Manager role, while many of the other cast members have been with the production throughout its several incarnations.
What first attracted you to this production?
That's a great question because that was in 2008. My theater company that I'm a member of in Chicago actually produced the show originally — The Hypocrites. So it was a show that we had put into our season, and we had asked David Cromer to come in and direct it for us, as he was sort of a friend of the company.
So I knew that it was a show that we were doing, and I hadn't read it since high school. Like so many adults, I read it in high school and then sort of forgot about it. So I had this kind of vague memory of what the play was, and I was a little irritated that we were considering the play, to be honest, based on what I remembered the play to be. And I had all these ideas why I didn't think it was a good fit for our company.
I thought to myself, before I bring this up in the meeting, I'm going to go back and reread the play. And so I did, and when I read it, I couldn't believe it was nothing like I remembered.
I think what I was remembering was all of those cliched high school productions that get made fun of in our pop culture. That sort of navel-gazey, cutesy, folksy sort of production, and when I was reading it to myself, I didn't see any of that in the script. And I thought, this is a really beautiful play, and I don't think there is a role for me in it, but I'm glad we're doing it.
And they asked if I wanted to throw my hat in the ring. … I said, 'Sure, I'd like to be a part of it.' Even though I thought there wouldn't be a good fit for me. To my surprise David called me, and asked me if I would play Emily, and I was really surprised and thought he was crazy, because I didn't think anyone would buy me in that role.
But I had just read it again, and fell in love not only with the play, but especially the third act, Emily's breakdown in the third act. And so I thought, he's crazy and this could be a disaster, but no one is ever going to ask me to play this part again, so I have to try. And that's basically the story of how David and I started working on the show, four years ago.
Can you believe that four years later you would have played the part for thousands of audience members?
Every day I can't believe that this happened. If you would have asked me at any point in my younger career if I would play Emily Webb, I would have said, 'No, I'm not the right girl for that.' Certainly now to have played it for as along as I have, it's an amazing gift.
Is it difficult to go through such a large transition in age in two hours?
The way we mapped it out, her transition is 14 years old in Act I, 16-17 in Act II, and then the final act as a woman, 27-28.
David talks not just to me, but to all of the cast who are playing younger, like the newsboys and the rest of the Webb and Gibbs kids, about age. He talks about it in a way that I think really makes sense. You're just playing an intention earnestly; you're not necessarily playing age, and if you try to play young, people will know it and it probably won't go over well for you.
Just simplifying it in terms of that approach really helped me a lot. I don't think there's any need to make young Emily particularly cutesy or whatever. She has a faster energy and she's concerned with different things. Her cadence is a little quicker than say Act III's Emily, but it's the same person. I try not to get caught up in too many of those details.
Is there a big difference between Santa Monica's Broad Stage and New York City's Barrow Street Theatre?
Every step has been watching the thing grow a bit. In Chicago, it was much, much smaller than it was in Barrow Street, if you can imagine it. In Chicago, we only had the two lanes of the on-stage seats. Behind them, two rows on each side. It wasn't even a full thrust stage.
So every time I've come somewhere to do the show, it feels a little bit less intimate. Ultimately, once we get in there, to me it's more about having the lights on for the whole show and being able to see the people that are there with us. To me, it doesn't matter if it's 25 people or like we have at the Broad Stage, roughly 350 people. If I can see them and they can see me, and they can see each other, and we're all sort of there together, it feels just as intimate.
I know the staging looks and probably feels less intimate (in Santa Monica). We're doing all the technical things that you can do to adjust for it, which is making slight volume adjustments and make our intentions a hair broader so that you can see it in the back. We're trying very hard to keep this intimate.
Is there hope of 'Our Town' transferring to another location or onto Broadway?
I would say that that is probably not likely. Anything is possible, I suppose. We really want the show to be an intimate experience, and I think when the talk of it transferring to Broadway happened, back when we were at Barrow, ultimatley the breakdown seemed to be coming from the fact that we just realized that there would have been so much intimacy lost.
David has announced doing it in Boston. So that's the next phase of the life for the play. No one is attached to it yet. I don't even know that I'll be going. But I do know that David will be reprising the role of the Stage Manager in Boston at the end of this year.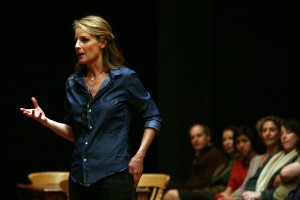 You've had some interesting actors as the Stage Manager. Have they each brought their own perspective?
I had friends come see the show a couple of weeks ago here. They had never seen or read 'Our Town,' and they said to me afterward, 'I can't imagine that that role was written for a man, meaning the Stage Manager.' And I think that's a credit to the way we approach the show and the way that each of the Stage Managers is allowed to really bring what they hold important to the text.
Helen's Stage Manager is absolutely very different than anyone else's that I've seen. But it's not quite fair to say that's because she's a woman. I also think, Michael Shannon played the Stage Manager and his Stage Manager was unlike anything I had imagined that role to be. But it was perfect, and it changed the tone of our show.
Will it be difficult to let go of Emily Webb?
It's been difficult every time. I said goodbye twice in Chicago and once in New York. We didn't know there would be another life for the show. I feel like I've said my big goodbyes with Emily. I'm ready to let go of her hand, when she's ready to let go of mine.
By John Soltes / Publisher / John@HollywoodSoapbox.com
Click here for more information on Our Town at The Broad Stage in Santa Monica.