REVIEW: 'The Echo Game' is surprisingly engaging thriller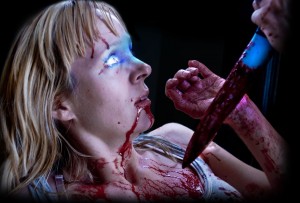 The Echo Game from writer-director Brian Feeney is not the best horror movie to come out on DVD in the past year, but it's far better than most. The supernatural thriller features a talented cast, which is rare for low-budget genre films, and the story is smart and keeps one's interest for 80 minutes. The Echo Game is a surprise treat.
Alisha Seaton plays April Reilly, a producer of a tabloid television show with several emerging problems on the home front. She loves her wife, Casey Lin (Jeannie Bolet), and they live a nice life with their daughter, Sarah (Melissa Lee), but the peacefulness will soon end.
Rachel (Angela Landis) was April's former partner and Sarah's biological mother. April believes that she died in the middle of the ocean from a drowning accident, but new clues surface that point to Rachel still being alive. Rachel's presence poses a conundrum for Sarah. This is her biological mother, after all. Doesn't the little girl have a right to know that she's still alive?
Rachel's reemergence has to do with the Echo Project, a scientific group headed by the murderous Anne Cassavettes (Judy Clement). The organization is rounding up people with ESP (extrasensory perception) for some type of world domination plot, and they have their sights set on Rachel and Sarah, two of the remaining specimens.
The overall plot of The Echo Game is nicely paced and developed. It's not too complicated, but it remains original. In some ways, the movie reminded me of Hearts in Atlantis because at its center is a story of a person with a special gift and the nefarious authorities who are trying to steal that away.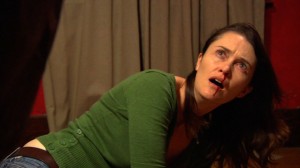 Seaton is the best of the actors, although I enjoyed Bolet as well. A few of the supporting characters get in the way, including Detective Michael Simmons (David Ghilardi), who is given several manufactured lines of dialogue.
The Echo Game is not scary, but it does have many intense sequences. A showdown in a hospital is nicely staged, and the climax is fairly satisfying.
A few gripes: April is a tabloid TV producer, and her wife is the owner of a makeup and costume shop. These may make for interesting professions, but it's hard to believe there are too many couples earning such a living. Also, when you have a cool makeup shop with tons of masks and costumes, why not use the setting to full effect?
The 80-minute running time is appropriate, because if it went any longer, the story would probably lose steam. Two scenes, including a shower sequence and encounter between two nurses in the hallway of a hospital, are extraneous and were obviously thrown in to add more nudity.
The Echo Game, as long as viewers can get past a few negatives, is fun and fleeting. The movie, which was recently released on DVD from MTI Video, is Feeney's first film as director, and it proves to be a solid entry in the horror/thriller genre.
By John Soltes / Publisher / John@HollywoodSoapbox.com
The Echo Game
Directed by Brian Feeney
Written by Feeney and John Ross; based on a story by Feeney
Starring Alisha Seaton, Jeannie Bolet, Melissa Lee, Judy Clement, Angela Landis, Liliya Czarina and David Ghilardi
Running time: 80 minutes
Rated R
Rating:
Revised