'Come Back, Africa' is a moving portrait of South Africa under apartheid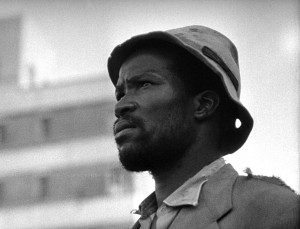 Director Lionel Rogosin achieved a monumental feat with Come Back, Africa, a searing snapshot of everyday life in Johannesburg, South Africa. The year is 1959, and our main character is Zacharia Mgabi, a man from Zululand in search of gainful employment, but no viable way to accomplish his goals. He's a "native," as his white employers call him, and instantly subject to abject discrimination, harassment and constant suspicion.
The 85-minute movie, which uses a non-professional cast, follows Zacharia as he tries to hold down a job for more than a few hours. He travels from one low-end business to another, whether it be mining for gold in the countryside, working as a houseboy for a white family or serving as the assistant in an auto body shop. He has an enthusiasm to earn some money, no matter how pitiful the wage. Although the elitist crowd fears his uneducated ways, Zacharia is truly a family man, a person looking to provide for his wife and children.
Throughout his ordeal, we don't simply watch this man struggle with the hard economics of the segregated society. We also view South Africa through the careful lens of Rogosin, who shot much of Come Back, Africa without properly informing the authorities.
The director is able to capture many lively scenes of everyday life, everything from throngs of people waiting for a train to the inebriated goings-on of an underground club where the men drink their worries away and the women sing about the drinking men (thanks to the great Miriam Makeba). Zacharia weaves in and out of this tapestry, almost like he's subject to the blowing winds in this tumultuous country.
The movie, recently restored by Cineteca di Bologna and currently playing at New York City's Film Forum, is that rare cinematic treat: a moving postcard that drips of authenticity. Yes, the untrained actors make a few rookie mistakes, like staring right into the camera. But it's hard to picture Come Back, Africa with anyone else but these cast members. They live on screen, and we are able to watch their hardships as a fly on the wall.
Of course, Zacharia is not meant to be a unique character created solely for the purpose of cinema. He speaks to the larger problem of apartheid and the hatred that oozed from South African society.
As a 2012 audience, it's hard to watch some of the visceral images of Come Back, Africa, especially when our main character serves as a houseboy for a wickedly offensive white woman. Almost instantly, the lady derides Zacharia for his simple, uneducated manner. She screams at him as if he were a dog who had just had an accident in the house.
One particular sequence finds Zacharia in a most inopportune situation. He's told to clean the dishes in the kitchen, and he begins to do as he's told. When the woman of the household realizes that he's thrown out the pot of freshly made mushroom soup, she tears into him like an animal. It doesn't take long for Zacharia to be kicked out on the street, unemployed once again.
This constant process of dodging the authorities, who inspect the "natives" for valid identification papers, and getting fired from job after job is the new reality of our main character. His only solace is the occasional swig of whiskey, the company of his friends and the love of his beautiful wife. It doesn't take much forethought to realize that the cancerous society will soon infiltrate Zacharia's home life, and he may have nowhere to turn.
Come Back, Africa is a portrait of a good man stuck in the middle of impossible times. Zacharia is inspiring not because of the grandiose speeches he's able to make in light of his present circumstances, but because he knows how to pull up his bootstraps, put on his hat and walk right into the lion's den. He's revolutionary because he's ordinary, and he holds an unforgiving mirror to the nasty brethren exploiting his poverty and misery.
Rogosin's Come Back, Africa is a movie that still teaches vital lessons, more than half a century after its original release.
By John Soltes / Publisher / John@HollywoodSoapbox.com