'Chaos;HEAd' investigates what happens when the mind begins to crack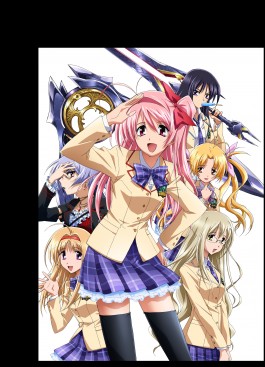 Since its debut as a visual novel, Chaos;HEAd has spawned many incarnations. From an Xbox 360 game to a successful manga series, the story of Takumi Nishijo has entranced fans for the past few years. But it took Madhouse's anime interpretation to fully bring Chaos;HEAd to life. Now, thanks to FUNimation Entertainment, fans can own the complete 12-episode series on DVD and Blu-ray.
Takumi is a character perfectly made for anime fans. He's a young loner who doesn't like to leave his home (he lives in a rectangular storage facility on the roof of a high-rise apartment complex in Tokyo). The only joy he has in life is the from the two-dimensional world. He hates talking to 3-D girls, and much prefers the company of Orgel Seira, his favorite anime character.
But Takumi isn't simply a recluse with a fetish for animation. He's a young man with a fractured mind, a person on the brink of insanity. He not only sits at his lonesome computer and plays video games, he also brings Seira to life, talking to her as if she were a real girl.
Although Takumi would love to stay hidden from bustling Tokyo forever, something evil draws him out. His local neighborhood has been plagued by grisly murders; they are the byproduct of a revolutionary movement called the New Generation Madness. Worse yet, the killer sends Takumi images of the murder scenes before the police even know another death has occurred. Someone wants Takumi implicated for the crimes.
There are many other characters added to the mix of this murder mystery. Many of them turn out to be fellow students at Takumi's private school, the Suimei Academy. There's Rimi, a strange, pink-haired girl who has a connection to the murders. There's Ayase, a student who moonlights as a rock vocalist. Her lyrics scarily foreshadow the New Gen bloodbaths. Yua has a crush on Takumi, although he deflects all of her advances. Finally, there's uber-annoying Nanami, Takumi's younger sister who is increasingly concerned about her brother's odd ways.
It doesn't take long for the police to turn their scrutinizing gaze on Takumi. And, in response, our main character buckles under the pressure. He can't live with the paranoia anymore. Everywhere he goes, the New Gen murders follow him. His dream sequences quickly take hold of his life, and he can no longer tell the difference between fantasy and reality. Perhaps worst of all, when he signs on to his favorite computer at a local Internet cafe, a mysterious person known as the General sends strange messages his way.
No matter what happens in his life, Takumi can't stay innocent forever.
When I first heard of Chaos;HEAd, I couldn't help thinking that the title was confusing and seemed like a bad translation from the Japanese original. After watching the 12 episodes that FUNimation has put together, I realize now that the show's moniker is perfect. This isn't a story about murders, police and double crosses. Sure, all of those elements are present, but Chaos;HEAd digs deeper. The series proves to be a portrait of Takumi and how he slowly comes to realize the extent of his broken mind.
It also serves as a biting critique of anime. Takumi is not some hero with a glowing light around his silhouette and an enormous sword in his hand (well, OK, he does have a sword). He's a character like me and you: A person who loves anime and sometimes finds the two-dimensional world much more inviting than the real world. It only makes sense that some people — Takumi included — would conjoin the images of their computer screen with the daily occurrences of ordinary life.
If you have a passing interest in anime, definitely check out Takumi and company. At only 12 episodes, the series flies by with quick action, interesting characterization, visually arresting images and the story of a  young man with a sickening mind. This may be a two-dimensional series about murders in Tokyo, but chances are you'll identify with the characters and plot points more than any other anime series.
By John Soltes / Publisher / John@HollywoodSoapbox.com
Chaos;HEAd

Click here for more information on FUNimation's DVD and Blu-ray releases.

Starring the voice talents of Todd Haberkorn, Jamie Marchi, Stephanie Sheh and Clarine Harp

Running time: 300 minutes; 12 episodes

Rated TV-14

Rating: