Hudson Horror Show V to feature 'Day of the Dead' and 'Phantasm'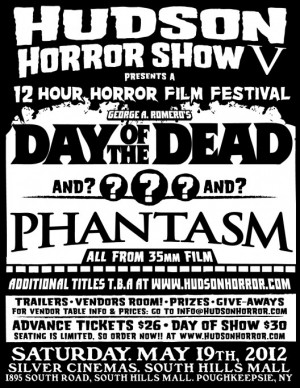 The Hudson Horror Show, which is quickly becoming one of the top movie marathons in the Northeast, is set to unleash a whole lot of scares in Poughkeepsie, N.Y., on Saturday, May 19. Fans can expect 12 hours of 35mm heaven, and the first two films (of what eventually will be five) have been announced … and their doozies.
George A. Romero's classic zombie sequel, Day of the Dead, will headline the festival, along with the 1979 grave-robbing tale, Phantasm. The rest of the slate will be announced shortly.
The fifth installment of the Hudson Horror Show will take place at the Silver Cinemas at 1895 South Road in Poughkeepsie (roughly 90 minutes outside New York City). In addition to the classic films, moviegoers will get the chance to buy rare collectibles from vendors and watch retro trailers.
Whatever surprises the HHS team has in store, don't forget the word of the day: 35mm. This is not a Blu-ray fest or DVD gala. This is a bow-down to the almighty splendor of the way movies used to be.
Tickets are $26 in advance, or $30 at the door. Trust me, there is a good chance the marathon will sell out. Every seat at the December event was taken, and this festival keeps growing larger and larger. Act soon, or else you'll be disappointed.
Click here to read our recap of Hudson Horror Show IV. Click here for tickets and more information on the May 19 show.
By John Soltes / Publisher / John@HollywoodSoapbox.com