'Jurassic Park' is pure thrill ride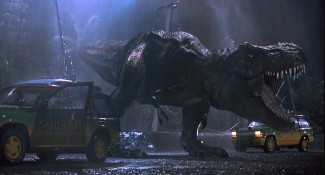 I still remember watching Jurassic Park in the big screen theater of Closter, N.J., with my parents and siblings in 1993. We had heard there were going to be dinosaurs, but we had no true idea of what to expect.
I sat in my seat, a pail of popcorn surely on my lap. The movie theater was dark and filled to capacity. This was the "it" movie that summer, and adults and children alike were taking a seat to enjoy the velociraptors and one big T-Rex.
I remember feeling a little letdown at first, when the movie's exposition works through the back story of doctors Alan Grant and Ellie Sattler, played by Sam Neill and Laura Dern, respectively. When would the dinosaurs come? I'm tired of these fossils. I'm tired of all this characterization. When do we get to the island?
Now, I find myself as much intrigued by this exposition as by the technical imagery of the dinosaurs themselves. But back then, I wanted bloody battles between bone-crunching dinosaurs and running humans. I wanted what the trailers on TV showed.
Within a few short minutes, I was given my kiddie fix. The paleontologists landed on the island. John Williams' gorgeous score fell around the waiting audience members, and Steven Spielberg's stunning storytelling filled the screen. The moment when Neill, Dern and Jeff Goldblum's character first exit their vehicles in the open field and look far off into the distance still stands as one of those spine-tingling moments in my movie-going history. When the brontosaurus arches its neck and the smaller dinosaurs play near the water's edge, I thought I had traveled back millions of years.
But I was just sitting in a small northern New Jersey town, next to my parents and siblings, holding (now clutching with fury) a box of popcorn.
When I watch Jurassic Park today, it's like looking at a family photo album. Not that my family members look or act like dinosaurs (at least most of them don't), but because the movie has become so ingrained in pop culture. I know all of the famous lines. I know when the music will swell at just the right moments, and I know that when the vehicles approach the T-Rex cage and the electricity is turned off, we're in for some scares.
I'm not frightened by Jurassic Park anymore, and I don't laugh too much at Goldblum's antics. But I still can't help watching, appreciating and, most importantly, remembering my first time, my first look at the silent cup of water starting to shake.
By John Soltes / Publisher / John@HollywoodSoapbox.com
Jurassic Park

Directed by Steven Spielberg

Written by David Koepp and Michael Chrichton, based on Chrichton's book

Starring Sam Neill, Laura Dern and Jeff Goldblum

Running time: 127 minutes

Rated PG-13

Rating:
Revised