BIG 'STAR TREK' NEWS: Is George Takei and LeVar Burton coming to your town?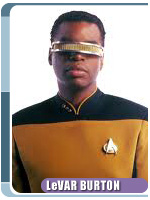 Hollywood Soapbox recently previewed Creation Entertainment's upcoming Star Trek conventions (read more here). Now there's word that some 2012 cons will feature LeVar Burton and George Takei.
Burton has been added to the 25th anniversary celebration of Star Trek: The Next Generation at the Crowne Plaza in Cherry Hill, N.J., on May 4-6. He will be in attendance all three days, and his autograph will cost $30. Click here for more information.
Burton will also appear at the June 9-10 event in Nashville, Tenn., the Nov. 16-18 event in San Francisco, Calif., and the mega-con Aug. 9-12 in Las Vegas.
George Takei, from Star Trek: The Original Series, has been announced for both Nashville and Las Vegas.
Definitely start buying your tickets if you're interested in some of these conventions. Vegas, in particular, is shaping up to be a historic (and packed) event. Confirmed guests for the four-day event at the Rio include: William Shatner, Kate Mulgrew, Avery Brooks, Ron Moore (who went on to revamp Battlestar Galactica), Jonathan Frakes, Brent Spiner, Colm Meaney and Michael Dorn, among many, many others.
By John Soltes / Publisher / John@HollywoodSoapbox.com