'It's About You' is a strangely effective documentary about John Mellencamp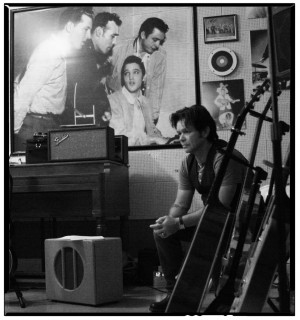 It's always best for documentary filmmakers to get out of the way and let their subject shine. The father-son team of Kurt and Ian Markus decide go the opposite route when following John Mellencamp during his 2009 summer tour with Willie Nelson and Bob Dylan.
The filmmakers are quite blunt and open about their inexperience of making It's About You. Using a calming, descriptive voiceover from Kurt, the story follows not only the legendary singer, but also how the documentary materialized. We are led to believe that Mellencamp dared the Markus family to create a film. And that's about it. They didn't receive much direction and they kept their overhead minimal (there's not even a sound person, as the voiceover tells us).
This Do-It-Yourself filmmaking is somewhat refreshing. We are not inundated with talking heads and silly montages that try to set Mellencamp's career into an historic subtext. Instead, we get footage, footage and more footage, almost like we're watching home videos. There are quite a few concerts that populate the 80-minute movie, but the best part is when we are allowed to watch the singer produce the album No Better Than This, which was released in 2010. As a fly on the wall, we inspect Mellencamp as he records songs in famous studios across the American South. There's probably no better scene than the singer standing on the spot where Elvis Presley once recorded at Sun Studio in Memphis, Tenn.
In these scenes, It's About You serves an important purpose. Rarely are we able to see the creative process in such an unadulterated fashion.
Still, it's difficult to completely endorse the Markus' thesis. The voiceover is overly poetic and meanders a bit. Kurt's assertions about a lost America have been explored countless times before and with more insightfulness than he's able to muster. I'm not sure how many more documentaries I can take that look at the broken barns, empty general stores and solitary silos of the United States with an accompanying doom-and-gloom recitation about the death of a bygone era. Yes, Mellencamp has tracked the rise and fall of our society in his great catalog of songs, but it's not necessary to hit us over the head with these assertions.
Some of the technical aspects of It's About You are also frustrating. Many shots are out of focus, and the Super 8 camera that the Markus' use can be a little shaky. Still, this all adds to the guerrilla style of the documentary. You can't fault a film that makes no pretenses of being perfect.
As far as the content, Mellencamp fans will delight in the rare chance to glimpse behind the curtain. The documentary, which is currently playing New York City's IFC Center and Los Angeles' Music Hall, won't change people's perspectives, but it may get your feet tapping and body shaking.
By John Soltes / Publisher / John@HollywoodSoapbox.com
It's About You

Directed by Kurt Markus and Ian Markus

Running time: 80 minutes

Not rated

Rating: