25th anniversary salute to 'Star Trek: TNG' adds new dates in 2012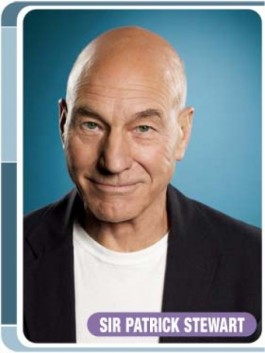 Star Trek fans have a lot to look forward to in 2012. Although the J.J. Abrams sequel is still more than a year away, Creation Entertainment promises to bring some Trekker fun to several cities throughout the United States with its Official Star Trek Convention.
At first, it looked like 2012 would be a light year for Star Trek cons. Only a handful of markets were announced, and with the recent retirement of Leonard Nimoy, fans started to realize that their favorite cons could drastically change. Creation has thankfully rebounded by focusing its 2012 efforts on a 25th anniversary of Star Trek: The Next Generation. Several cities can expect to party with the stars from arguably the most successful (and critically acclaimed) series in the franchise.
Things get started in New Jersey on the weekend of May 4-6. Patrick Stewart, aka Captain Jean-Luc Picard, will sign autographs and pose for pictures at the Crowne Plaza in Cherry Hill, right outside Philadelphia. Other stars expected to attend: Jonathan Frakes, Brent Spiner, Gary Graham, Suzie Plakson and Tim Russ. Morgan Gendel will also be in attendance to offer his thoughts on one of the most famous TNG episodes of all time (an episode he actually wrote), "The Inner Light." Expect more celebrity announcements in the coming weeks.
Note: John de Lancie was originally scheduled to attend, but he recently canceled his appearance.
Few details have emerged on what Creation is planning for the three-day convention, but Trekkers can expect to hear Russ' band play on Saturday night ($15 a ticket, although it's included in some packages). Gold tickets cost $379, and they include reserved seating, autographs, a Friday night cocktail party and admission to Russ' concert.
Separate autograph and photo op tickets are currently on sale. Most actors charge $20 for a scribble and $40 for a photo. Stewart commands $75 for an autograph and $100 for a photo op. Plan early: Picard almost always sells out.
Click here for more information on the New Jersey event.
Other Star Trek conventions include a two-day event in Nashville, Tenn., on June 9-10; the four-day extravaganza in Las Vegas on Aug. 9-12; and three-day cons in Chicago (Oct. 19-21) and San Francisco, Calif. (Nov. 16-18).
If you're planning on attending the Las Vegas convention, act quickly. Gold packages are already sold out, and the other preferred options are selling quickly. Just about everyone is expected to attend: William Shatner, Kate Mulgrew and Avery Brooks, among others.
The Nashville event should be a good one. So far, ticket prices have not been announced, but expect them to be a little cheaper, because it's a two-day convention. Announced guests include Stewart and Frakes. In Chicago, only Michael Dorn has been announced, while San Francisco will see both Dorn and Walter Koenig, among others.
Stay tuned to Hollywood Soapbox for all your Star Trek coverage.
Are you planning on attending one of these conventions? Leave your thoughts and suggestions in the comment field below.
By John Soltes / Publisher / John@HollywoodSoapbox.com