'Homeland' is one of the best shows on TV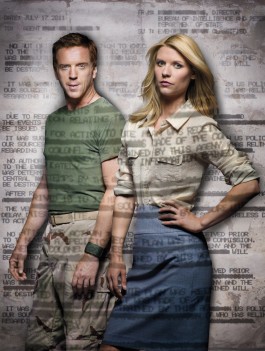 Homeland, Showtime's brand-new terrorist drama, has wrapped its first season and is already garnering critical acclaim and award recognition. After watching the first couple episodes of this fine, fine television series, all of this success doesn't come as a surprise.
First there's Claire Danes, a talented actress who has never had the chance to blossom on the silver screen. She started with MTV's My So-Called Life and has played some memorable supporting roles over the years (the best being in Steve Martin's Shopgirl), but Homeland is her home run.
The actress plays Carrie Mathison, utilizing a great mixture of opposites. She seems simultaneously in control and uncontrollable. The CIA agent knows how to push the buttons of her superiors, including Saul Berenson (Mandy Patinkin), and break the rules to gather the information she requires. She is an adept strategist with a careful eye for finding and apprehending targeted criminals. Her investigatory power quickly falls on Nicholas Brody (Damian Lewis), a Marine sergeant who recently returned home from Iraq after eight years of captivity.
Carrie wants to know whether the American hero has turned into a one-man sleeper cell.
This dynamic lead character is also the definition of unstable. She pops anti-psychotic pills without telling her government agency (a violation) and takes the law into her own hands so many times that the line between right and wrong is forever blurred. On television, she's fascinating to watch. In real life, Carrie would be the scourge of the media and general public, a woman with no problem setting up secret cameras and wiretaps on fellow Americans.
The writing is the second stellar feature of Homeland. Creators Howard Gordon and Alex Gansa, working off an Israeli series, know where their story is heading, but their plot twists never seem predictable. Characters make mistakes. Drastic actions are taken. Loyalties are put to the test.
Homeland is not the best show on television, but it comes close to perfection. Its inaugural season has been impressive for its daring breadth and insightful commentary on stories that seem ripped from the headlines. This is that rare television show that truly utilizes the news of the day for invigorating drama. Carrie and company don't cheapen the perspectives on homeland security and global terrorism; they actually add to the discussion with thoughtful stories and nail-biting intensity.
By John Soltes / Publisher / John@HollywoodSoapbox.com