EXCLUSIVE: Clowning around with the Piccolini Trio (Part III)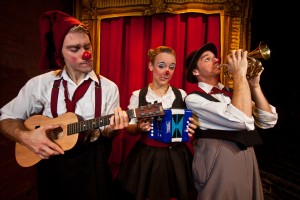 The Piccolini Trio, consisting of Joy Powers, Joshua Shack and John Stork, are ready to set up camp at the Canal Park Playhouse in downtown Manhattan, Jan. 7-29. Their clown act, cleverly titled Circus in a Trunk, spawns from the simple question: What should a group of performers do if the circus never arrives?
For more information on the show, click here. Tickets are priced at $20; performances run Saturdays and Sundays at 2 p.m. and 4 p.m.
Recently, Hollywood Soapbox exchanged e-mails with the triumvirate of talent behind the Piccolini Trio. Here, we present the third in a three-part series about the upcoming engagement of Circus in a Trunk.
The third installment focuses on Joshua Shack, currently the production manager for the Circus Smirkus Big Top Tour.
You all have varied circus careers. How did you come together and develop Circus in a Trunk?
John and I were on tour together as teenagers with Circus Smirkus. We were friends, but we didn't work together much as he was an acrobat and I was a clown.
When we graduated from Smirkus, we both went on to do different things. In 2007, I directed a clown play called Out of Orbit. I called John to see if he'd like to make the leap from comedic acrobat to full-on clown, and he did. It was a bit of a leap of faith, but he turned out to be a great clown.
I met Joy when I was working on staff for Circus Smirkus, and she was performing; she's a few years younger than us. When she graduated from Smirkus, we started working together. We then formed the Piccolini Trio with another Smirkus alum named Shea Vaccaro.
When the Canal Park Playhouse contacted us about presenting our new show, Shea was studying abroad, so I called John.
Again, it was a bit of a leap of faith; I knew he was talented and enjoyed a creative challenge, but our style was different from what he was used to. He was such a good fit, that when Shea began to pursue a career in music (he's  now studying at Berklee College of Music; he's a very good musician) we asked John to be our permanent third.
He's brought his own skills and ideas, and he adjusted to our style, as well as bringing his own sensibilities. We have done different things on our own, but the connection is Circus Smirkus.
When (Joy) was performing with Smirkus, she was one of the best clowns in my opinion. She didn't have a lot of experience, but her instincts were uncommonly good, and her timing was great, especially for a young clown.
I was looking for a partner, and we realized that we had similar taste in clowning, and our characters would work well together. I feel very lucky to work with both of them; it's hard to find a good partner, and I get to work with two really talented performers, and great friends.
The show is a combination of contemporary and classical European clowning … I was wondering if you could elaborate a bit on how you chose the acts for the show and who were your influences.
Much of our material is our adaptations of old classics. We take inspiration from many sources, and add our own characters and new ideas. We also have routines that are more contemporary, much of it is random and starts from making each other laugh, and we think "gosh, that's funny… let's see what the audience will think."
If they laugh, we keep it!
We're drawing from centuries of material from circus and theater, but also from our own imaginations. We may think of an old routine that we like or think will fit the theme of the show (an improvised circus coming from an antique trunk) and then adapt it, or we may have an idea inspired by something we saw on the street, or something that happened during the day.
Clowns are acute observers of life. In a circus, we may look the least human, but we are the closest to the audience; we represent the everyman, and find the humor in life.
What's the biggest challenge of being a working clown?
There are many challenges, like any artist, sometimes you don't know when your next paycheck will be. But clowning is our passion; you have to love it. As clowns, we sometimes face misconceptions and negative stereotypes. Often people think they don't like clowns, but then they see us, and they realize they love REAL clowns.
Could you describe some of the audience reactions over the years, and namely what you expect for Circus in a Trunk? I imagine the kids in the audience enjoy the clowning at one level, while the adults enjoy it perhaps for different reasons. How do you cater to both age groups?
It's true that children and adults enjoy our show on different levels. It really is a show for all ages. In fact, it's important that we have kids and adults in the audiences because some bits are there for the kids, and some are for the adults, and if the audience isn't mixed, sometimes a laugh is missing, and it throws off the rhythm.
Often we can't just not do a certain bit, because it is important for the logical flow of the act. But, mostly, kids and adults are laughing together, if for different reasons.
Kids usually laugh because something is silly, adults laugh because it's clever. There is a certain timelessness to our show, and a whimsical and innocent style that asks the adults to watch through childlike eyes, but adults leave feeling rejuvenated and certainly enjoy the show as much as the kids. We try to be the antidote to today's cynical world.
What's the rehearsal schedule/commitment like for a clowning show like Circus in a Trunk? Sometimes there might be a stigma that clowning is all improvisational, but I imagine there's hours of fine tuning and crafting of the performance. Could you explain?
Some of our material is tightly choreographed, and some of it is more improvisational. It's all rehearsed, but it's important for us to listen to the audience and adjust accordingly. If they are really enjoying something, we might milk it, if not, we might cut to the chase. Our timing varies from show to show.
As a clown, it is important to connect with the audience. There is no fourth wall. When something out of the ordinary occurs, we try to react to it. Sometimes it brings about something really funny. Sometimes we can cover a mistake so the audience has no idea, other times we just acknowledge it; audiences love to feel a part of an inside joke.
We typically discuss the show after each performance and make adjustments when we feel we need to. Sometimes we'll give something another show or two to see if a different audience will react differently.
It's important to make changes as we go, to keep it fresh for ourselves, and to make improvements, but it's also important to realize that something new might not be perfect right away, and by performing it a few times, it may settle into itself, and we'll find the timing and work out the kinks.
By John Soltes / Publisher / John@HollywoodSoapbox.com