DANCE REVIEW: Noche Flamenca heats up Joe's Pub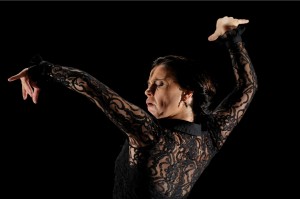 NEW YORK — Among plates of artichoke salads and ever-flowing bottles of wine, Noche Flamenca and its lead dancer, Soledad Barrio, offer an expert performance of dazzling dance moves and exuberant singing at Joe's Pub on the Lower East Side. The program, which runs a quick 75 minutes, continues until Jan. 6.
At first, it appears that the small triangular stage at Joe's Pub is unsuitable for a flamenco performance. But the dancers with Noche Flamenca, including Barrio, Alejandro Granados, Sol La Argentinita and Juana La Chispas, carefully navigate the abbreviated space, always seeming contained, yet uncontrollable.
The program opens with a company number titled "Amanecer." It's a simple and effective introduction, previewing the troupe's distinguishable qualities right from the start. Martín Santangelo, who serves as artistic director and choreographer, cleverly sets Barrio, his wife, both within the group dynamic and also independently.
Wearing a stark red dress, with a solitary flower in her hair, Barrio is able to command the audience's attention with furious toe-tapping and complicated, always alluring gestures. She has a way of looking up at the spotlight and yearning for something beyond her reach.
Is she dreaming of Spain, or perhaps someone romantic, maybe a bygone era that will never be resurrected? Whatever the desire is in her eyes, Barrio is able to convey oceans of resonance on her face and with her seemingly impossible movements.
Joe's Pub, although a tight space, offers an up-close view of Barrio's excellence. And it's difficult not to focus in on her frenetic feet and how she swoops the hem of her dress like a theatrical curtain gone manic. In such an intimate setting, we are awarded the chance to move closer and inspect the brilliance.
The second number is "El Patuka," which was also presented in October at the Joyce. Granados takes a completely different approach to the dance for the Joe's Pub run. Rather than offering a humorous personality that accentuates large, almost grandiose movements, the dancer scales everything back and finds the seriousness behind his carefully orchestrated steps.
There's a palpable energy when watching Granados tap his right foot in quick succession and stare off into the distance. It's like a bullfighter waiting for the lunge. With a red scarf tied tight around his neck, the dancer trades spots back and forth with Manuel Gago and José Jiménez, the cantaores. Their give-and-take becomes a ghostly exchange of fiery passion.
Granados, constantly checking on his two feet, uses his jacket almost like a dress, grasping it in both hands and swaying it left and right.
Following an upbeat song featuring Gago, Jiménez and the two guitarists, Eugenio  Iglesias and Salva de María, the dancers reconvene for "La Plaza," an expansive piece that allows everyone a solo. Argentinita and La Chispas are wholly unique, never trying to mimic each other's styles. They play with their obvious sexiness, drumming up flamenco's inherent emotional pull until it crescendos to the beat of the music.
Often when I'm reviewing a dance performance, I sit back and write in my notebook, so as not to forget all the specifics. My confession is that when Barrio takes the stage for her final solo piece, I usually drop my pen and notebook and simply enjoy.
I've seen this final act many times over the last few years. At Joe's Pub, it's called "Soledad," and the resulting performance is perfection personified.
Barrio emerges from the background like a figure in the fog. Dressed all in black, with her back to the audience, she outstretches her arms and begins the slow-burn rhythms.
When the fire is ignited, she uses her left hand to hold up her dress and her right hand shoots out like a pillar. The feet start their non-stop tapping, and the spirit of the dance is possessed. It's a finely focused melange of facial movements, hand gestures, kicking feet and swooping shoulders. She spins and spins, emblazoning herself on the collective memory of all those lucky enough to see her under the warming comfort of the spotlight.
In a setting like Joe's Pub, beneath the storied rafters of Joseph Papp's Public Theater, a phoenix is destroyed and reborn again.
By John Soltes / Publisher / John@HollywoodSoapbox.com
Noche Flamenca

Starring Soledad Barrio, Alejandro Granados, Sol La Argentinita and Juana La Chispas

Singers include Manuel Gago and José Jiménez

Guitarists include Salva de María and Eugenio Iglesias

Artistic director and choreographer: Martín Santangelo

Playing at Joe's Pub at 425 Lafayette St. in New York City through Jan. 6.

Click here for more information. Tickets begin at $35.

Running time: 75 minutes

Rating:

Click here for more information on Noche Flamenca.