EXCLUSIVE: Charlie Ross, creator of 'One Man Star Wars Trilogy,' on his love of Lucas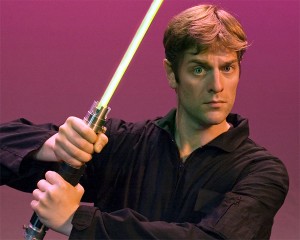 Since 2002, Charlie Ross has been living a long time ago, in a galaxy far, far away.
The versatile actor has brought his celebrated play, One Man Star Wars Trilogy, around the world and back again. And now he's set up camp in New York City at the Midtown Theatre, 163 W. 46th St., through Friday, Dec. 23.
The performance lovingly condenses the characters and plot twists of the original Star Wars trilogy (episodes IV, V and VI for those keeping score at home) into a digestible, often hilarious theatrical setting.
Recently, Hollywood Soapbox exchanged e-mails with Ross about his future plans for One Man Star Wars Trilogy and any other franchises he's looking to shrink.
Where did the idea for a One Man Star Wars Trilogy come from? I take it you were a big fan of the movies?
It was a pretty organic experience/revelation for me. I originally thought that a multi-person cast would work better — I mean, who would want to watch just one guy act out Star Wars? Luckily my director, TJ Dawe, and fellow actor, Mike Rinaldi, convinced me that the script worked better when I did it on my own. TJ and MIke both knew Star Wars very well — any kid who grew up it the 70's/80's did — though, perhaps I knew it just a bit better than they did.
What went into the writing process to condense so many hours into one theatrical piece?
I wrote initially at a friend's house, over two or three evenings. I wrote what I could recall off the top of my head. In the meantime, my friend played the film's soundtracks. The music was a perfect prompter: I could recall entire sequences just by listening to the score, and in this way the music became part of my condensed script. Revisions took place in rehearsal and over the first few live performances.
How has the play evolved over the years?
Always. Although, I think the show has mutated, rather than evolved.
What are your future plans for the Star Wars Trilogy? Continuing to tour the material?
Well, it's coming up on 11 years of doing this show. I never thought it would last this long. I'm happy to tour to wherever Star Wars fans can be found.
Do you have any other franchises/projects that you think could work in a similar theatrical setting?
I've been performing my One Man Lord of the Rings since 2004 — once again, an epic series of films — so, I'm touring both. I've considered doing the Star Wars prequels, the new Batman films, the Muppets, Terms of Endearment (maybe not). How about Twilight?
How have the audiences responded to the piece? I imagine the fans of the movies are loving the humor and creativity.
I'd say that the response has been positive. On occasion I've come across someone who doesn't want their Star Wars messed with. I respect that — that's why it's a One Man Star Wars. It's my version, I've been lucky to share it and to celebrate the simple love of Star Wars.
By John Soltes / Publisher / John@HollywoodSoapbox.com