'Chillerama' is a strange barrel of twisted laughs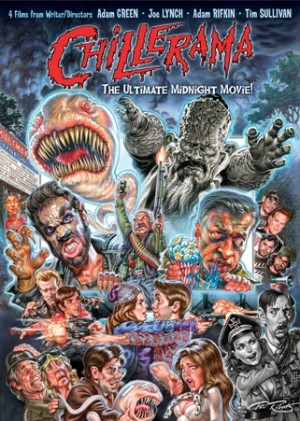 Horror anthologies can be a ton of popcorn fun for genre fans. Piecing together short films from established directors typically generates little gems that break all the rules and leave audiences clamoring for more. Quentin Tarantino and Robert Rodriguez' Grindhouse series comes to mind as one of the best, plus this year's Drive-In Horrorshow spun some ghoulishly enjoyable tales. Who could forget George A. Romero's Creepshow?
Now comes Chillerama, another winning entry in the realm of horror anthologies. These tiny morsels of genre goodness lean much more toward comedy than horror, and thankfully most of them are hilarious. If the jokes and gags didn't work, this one would have been dead on arrival.
The premise is much like Drive-In Horrorshow: An old drive-in movie theater is set to close. After his wife's death, Cecil Kaufman (the always enjoyable Richard Riehle) can't muster enough enthusiasm to keep the old place in business. He's decided to throw one last horror marathon for the horny teenagers in the community.
First up is Wadzilla, directed by and starring Adam Rifkin, who plays Miles Munson, a man who suffers from a low sperm count. That's right, a low sperm count; you can see where this is heading.
His doctor, played by Ray Wise of Twin Peaks, prescribes a medicine that helps him so much that, well, a monster is released and wreaks havoc on New York City. Nothing is safe, especially the Statue of Liberty.
The sexualized take on the old Godzilla theme produces many nasty jokes, although they almost always generate laughs. Rivkin stays dedicated to the 1950s-style monster movie with many screaming citizens pointing up toward the sky. It's just that the big lizard has been replaced by a monster that looks like a steroid version of the baby alien that pops out of John Hurt's chest in Alien.
Be sure to look for Eric Roberts as Gen. Bukkake.
The second feature is I Was a Teenage Werebear, directed by Tim Sullivan. This one is probably the weakest of the bunch. It features a plot inspired by Rebel Without a Cause and Grease, but it can't sustain itself for the long haul and grows dull.
In a few of the films, the great character actress Lin Shaye is featured. Be sure to enjoy her parts; she's a consummate comedian with a knack for cooky characters.
The drive-in trilogy comes to a close with Adam Green's The Diary of Anne Frankenstein, which sounds like a horribly offensive take on the real story of Anne Frank. The short film is a tongue-in-cheek look at Adolf Hitler's maniacal quest to build a super-human. Joel David Moore, who speaks gibberish rather than German throughout the short movie, is absolutely hilarious. Kane Hodder also turns up as Meshugannah.
The fourth film, directed by Joe Lynch, is Zom-B-Movie, and it follows what happens at the drive-in theater after some toxic blue goo makes its way into the popcorn. It's a nice finale to a funny anthology.
Chillerama certainly presses the limits. These directors go for the cheapest of cheap laughs, and, for the most part, their resulting films are clever little nuggets that will be appreciated by horror fans. Consider yourself warned.
By John Soltes / Publsiher / John@HollywoodSoapbox.com
Chillerama
Directed by Adam Rifkin (Wadzilla), Tim Sullivan (I Was a Teenage Werebear), Adam Green (The Diary of Anne Frankenstein) and Joe Lynch (Zom-B-Movie)
Starring Richard Riehle, Joel David Moore, Kane Hodder, Sean Paul Lockhart, Rifkin, Ray Wise, Eric Roberts and Lin Shaye
Running time: 120 minutes
Unrated
Blu-ray features: Directors' video commentary, Wadzilla deleted scenes and trailers, making of The Diary of Anne Frankenstein, I Was a Teenage Werebear trailer, behind-the-scenes and deleted scenes, Zom-B-Movie deleted scenes, directors' interviews and Chillerama trailer.
Rating: