ANALYSIS: Golden Globes show no love to 'The Killing' or 'The Walking Dead' … why?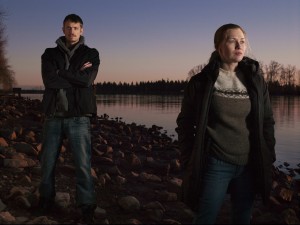 Any television fan must have looked at the Golden Globe nominations this year with a ho-hum attitude. All of the usuals are there with little room for newcomers.
Yawn.
American Horror Story and Game of Thrones are the only rookies; just about everything and everyone else are distinguished alumni. This was such a boring list that I was half-expecting Frasier to pop up again for nostalgia's sake.
So there's one logical question: The Hollywood Foreign Press Association, which hands out the awards, has showered love on AMC's Breaking Bad and Mad Men (at least, in previous years). But why did they forget about The Killing, arguably the best new drama from last season, and The Walking Dead, which continues to bring in record crowds?
One could make the point that zombies and murder investigations are tough sells for awards shows. And, yes, The Walking Dead is the most gruesome show to ever hit the boob tube. But why is American Horror Story's dark plot applauded, while these two fine shows are completely left in the dust?
Also, HBO's Game of Thrones has graphic displays of sexuality and violence. Ditto for Boardwalk Empire.
As far as The Walking Dead is concerned, the HFPA has fallen into the "genre trap." To put it simply, horror is typically seen as a lesser genre, especially compared to the high-minded drama of Homeland, Boardwalk Empire and the like. Something like Breaking Bad, which was only nominated for Best Leading Actor in a Drama, is seen as "real" television, while The Walking Dead is seen as cooky, creepy fare for teenagers and comic-loving older men.
The show needs to be respected. It has received decent critical marks and the audience is loyal. Now the awards ceremonies need to start showing the love. This is not a case of a die-hard fan run amok. Yes, I do enjoy The Walking Dead, but I'm not such a Kool-Aid drinker to believe that the show should win. It's not perfect, but it certainly deserves some nomination recognition.
I also understand that enjoying a show doesn't necessarily mean it's award-worthy. I enjoy True Blood, but there is no way the HBO show deserves a Golden Globe. I enjoy Dexter, but it's award days should be a thing of the past.
I'm all for new shows taking the spotlight: Bring on Homeland, Game of Thrones, American Horror Story. It's just funny why The Walking Dead can never enter those ranks.
For The Killing, there is no logical explanation why it's missing from the Best Drama category (at least Mireille Enos was nominated for Best Leading Actress in a Drama).
Many people were upset by the unexpected cliffhanger in the season finale. Viewership started out strong and then dwindled. Still, reviews were ecstatic and compared to the typical police-procedural garbage on TV, the show was a revelation.
Granted, the field for Best Drama is crowded, but room should have been made for this gem.
What are your thoughts? Has AMC been dissed? What about Andrew Lincoln? What about Joel Kinnaman?
Leave your thoughts in the comment field below.
By John Soltes / Publisher / John@HollywoodSoapbox.com