'Point Blank' is a slick, adrenaline-pumping French thriller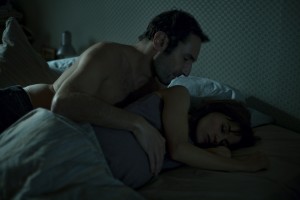 For some reason, it always feels like the French can do thrillers better than anyone else. There's something in the way the cameras frantically move in and out of the action and how the characters all seem to make smart choices under difficult circumstances.
'Point Blank,' which was recently released on DVD from Magnolia Home Entertainment, is a worthy addition to the ever-growing list of fast-paced action flicks set in Paris.
Samuel (Gilles Lellouche) and Nadia (Elena Anaya) are living a young couple's dream. Samuel has a steady job as a nurse at the local hospital, and Nadia is eight-months pregnant with a daughter on the way. They live together in a nice apartment and can't stop kissing each other.
Of course, the serenity won't continue forever.
The honeymoon ends when Samuel witnesses a crime in the hospital and he finds himself in the middle of a violent tug-of-war between warring criminal factions. It doesn't take long for Nadia to be kidnapped and Samuel left with an ultimatum: Take one of his patients, a crime lord known as Sartet (Roschdy Zem), and free him from police surveillance.
'Point Blank' never stops to take a breath. Its 84-minute running time breezes by like a bullet and this causes the blood to pump in the all the right places. As a thriller, the movie is as good as Liam Neeson's 'Taken.' As a drama, where the audience is asked to feel for Samuel's predicament, the film trips up a bit. Because the action is so fast-paced and we are left with little idea of who these people are, everyone and everything feels like a blur.
Still, one doesn't watch an action film for the exposition. 'Point Blank,' expertly directed by Fred Cavayé, streamlines everything to its barest bones. And this cinematic approach is appreciable. Too often these types of movies are bogged down by extraneous plot points and sweeping, almost melodramatic occurrences.
In the battle between characterization and thrills, I typically choose thrills.
Lellouche holds much of the film together with his every-man sentimentality. What he endures to save his wife is admirable, and comes off as believable. The choices that Samuel makes within the film all seem mostly logical, especially since the police are as deceptive as the supposed criminals.
The relationship between Samuel and Sartet is probably the most nuanced aspect of the film. These two can't quite figure out whether they are enemies or friends; this makes their back-and-forth always uneasy and on edge.
That's one of the strongest suits of 'Point Blank' — except for Samuel as our hero, no one fits into a cookie-cutter mold as a bad guy or good guy. Everyone is shady. Everyone has a gun. Everyone wants something of value.
Watch how Cavayé stages the final sequence within a police precinct run amok. There are crowds of characters running around, sometimes wielding guns. Throughout all of the melee, we center in on the plight of Samuel and Nadia. They are our entry-point into this web of deceit and corruption. As an edge-of-our-seat audience, we hope they make it through to see the birth of their first child.
'Point Blank' is smart entertainment because it keeps us guessing right until the end.
By John Soltes / Publisher / John@HollywoodSoapbox.com
Point Blank

In French, with English subtitles

Directed by Fred Cavayé

Written by Cavayé and Guillaume Lemans

Starring Gilles Lellouche, Elena Anaya and Roschdy Zem

Running time: 84 minutes

Rated R for strong violence and some language

Rating: