Alan Ayckbourn does it again with the stellar 'Neighbourhood Watch'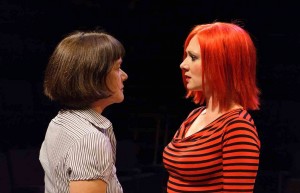 There must be something in the water of Scarborough, England.
Alan Ayckbourn, the prolific British playwright whose career has spanned more than 50 years, has called Scarborough's Stephen Joseph Theatre home for decades. His works routinely premiere there before they shuffle off for American engagements and UK tours.
What a treat that 59E59, the network of theaters in midtown Manhattan, is able to present so many of his plays for New York City audiences.
His latest is 'Neighbourhood Watch,' which wonderfully retains its British spelling and is presented as part of 59E59's Brits Off-Broadway Festival.
The two-act play is an endlessly entertaining ensemble piece that focuses on the boundaries that people construct around their lives. In this case, it's the walls of a garden or the fences that divide properties. Every character in the often hilarious production has a fear of what might be lurking outside his or her door. Whether it's the young riffraff, the busty neighborhood tramp or even the police, this community is scared.
Hilda (Alexandra Mathie) and Martin (Matthew Cottle) are a pair of grown-up siblings who live together, and yet they have a relationship more like a marriage. They are a brother and sister who often finish each other's sentences and are intent on reshaping the world with their pacifistic, Christian and wholesome ways. They speak articulately and appreciate the company of their fellow neighbors.
After moving into a new house in the Bluebell Hill Development, they decide to throw a housewarming party. At the soiree, where no one is interested in the hors d'oeuvres, we meet Dorothy (Eileen Battye), the local gossip; Rod (Terence Booth), the local militant; and Gareth (Richard Derrington), a local craftsman whose wife (Frances Grey) has a reputation for sleeping around the block.
This informal party soon turns into a discussion about how the old neighborhood has gone downhill. Petty crime has overtaken the streets and even Martin caught a young boy trying to jump the fence into his backyard. In their minds, something needs to be done.
The party soon morphs into regular meetings of the new Bluebell Hill Development Neighbourhood Watch. Martin becomes the chairman, while his paranoid colleagues turn to him for every bit of direction. It doesn't take long for the group to install armed patrols, identification cards and weekly vandalism reports.
Ayckbourn's play, which is his 75th, is a coy look at how seemingly benign ideas can spiral out of control. The neighbors of Bluebell soon turn into a veritable militia that sacrifice personal freedom for the greater good. The only one with a clear head appears to be Amy, Gareth's cheating wife who eventually fancies the company of Martin.
The playwright's words are expertly chosen; Ayckbourn has always been a master of the ensemble. 'The Norman Conquests,' which played Broadway a couple years ago, is still one of the best comedies to travel across the pond to New York. He has an uncanny way of spinning tales with engaging characters who always cloak themselves in clever wordplay. 'Neighbourhood Watch' is far from his best work, but it's perpetually fascinating and adeptly turns a mirror to our inherent cry for safety and security.
The acting is solid. Mathie, in particular, has a sternness for Hilda that is both funny and telling. There's obviously something more complex brimming under the surface. The same can be said of Martin, who appears to be all smiles and sweaters, but underneath the veneer is a man that needs to grow up.
Booth is a masterful actor who enlivens Rod with a take-no-prisoners mentality. It's an inspired performance.
'Neighbourhood Watch' is an odd play, to be sure. But within its peculiarity, there are hints of everyday life that should be familiar to every theatergoer.
By John Soltes / Publisher / John@HollywoodSoapbox.com
Neighbourhood Watch

Written and directed by Alan Ayckbourn

Starring Eileen Battye, Terence Booth, Phil Cheadle, Matthew Cottle, Richard Derrington, Frances Grey, Amy Loughton and Alexandra Mathie

Playing at 59E59 Theaters at 59 E. 59 St. in New York City.

Click here for more information. Tickets start at $45.

Running time: 155 minutes

Rating: