Hudson Horror Show doesn't disappoint … We're ready for Vol. 5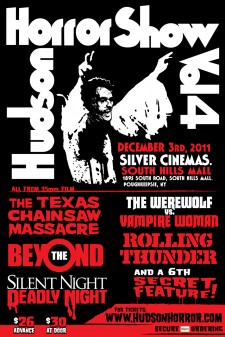 The Hudson Horror Show, which takes place biannually in Poughkeepsie, N.Y., is slowly, but surely, becoming a horror institution for genre fans in the Northeast. On Saturday, Dec. 3, fans from far and wide drove to the old-school movie theater at the back of the South Hills Mall for 12 hours of cinematic debauchery.
It was a welcome blast from the past, and I rarely use that phrase.
The fourth installment of the successful festival featured several highlights. Vendors sold DVDs, T-shirts and rare collectibles in the lobby. The popcorn smelled just right, and the 35mm was just as we like it: grainy, splotchy and indicative of a lost age.
The program featured six gems: 'The Werewolf vs. Vampire Woman,' Lucio Fulci's 'The Beyond,' 'Rolling Thunder,' 'The Texas Chainsaw Massacre,' 'Silent Night Deadly Night' and the bonus mystery feature, 'Godzilla vs. The Cosmic Monster.'
The crowd was packed to the gills. The show's organizers, who took to the microphone between each movie, reported that the event was a near sell out. This festival will become a hard ticket to snag.
I'll leave individual memories on each film to my fellow moviegoers. Please leave your comments in the box below.
Expect an announcement on the spring 2012 show shortly. There were few hints about the lineup; however, there was mention of 'The Texas Chainsaw Massacre 2.'
For what it's worth, here's a list of worthy candidates for any future fest:
'Friday the 13th'
'Hellraiser'
'The House by the Cemetery'
'The Pit and the Pendulum'
'Creepshow'
'Suspiria'
…some early Hammer horror movies.
'Night of the Living Dead'
'Dawn of the Dead'
'Maniac'
By John Soltes / Publisher / John@HollywoodSoapbox.com