Dianne Wiest is marvelous in 'The Cherry Orchard'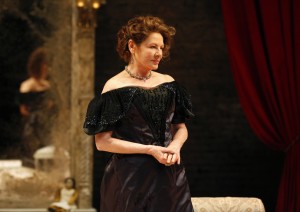 Anton Chekhov is so in vogue on New York stages that on my way to Classic Stage Company's new production of 'The Cherry Orchard,' I half expected to hear some deep, cerebral discussions emanating from the alleyways and parlor apartments in downtown Manhattan. Some 100 years after his death, the man has left a lasting impression.
In recent years, theatergoers have experienced multiple productions of 'The Seagull,' 'Three Sisters,' 'Uncle Vanya' and 'The Cherry Orchard.' It appears Chekhov has become the new Sondheim.
Classic Stage, snugly nestled on the Lower East Side, has been at the forefront of this Russian revolution. In the last few seasons, they have presented acclaimed star-studded revivals of each of the playwright's major works. Now, we come to the end of the Chekhov Cycle with an exquisite production of 'The Cherry Orchard,' starring an unmatched Dianne Wiest and impressive John Turturro.
True, the two-hour-15-minute production doesn't quite match the excellence of Sam Mendes' take at BAM a couple of years ago (who could forget Simon Russell Beale's performance?), but that's no reason to skip over Classic Stage's effective four-act. This production is funny and touching, featuring some of the best ensemble work on any New York stage.
Wiest plays Ranevskaya, sister to Gaev (a very nice Daniel Davis). They are theatrical originals, a pair of siblings so enamored with life that they fail to see that their family estate is about to go financially under. Like many of Chekhov's great characters, Ranevskaya and Gaev refuse to face reality; they are far too distracted with the company of their family and friends. They are the type of people who hold onto hugs for a few extra seconds, stroking arms, patting heads, smiling effortlessly.
There to dish out some reality is Lopakhin (Turturro), a man who has successfully broken through the chains of peasantry and made a name for himself. He has a plan to save the siblings' coveted cherry orchard from falling into the wrong developer's hands. But the challenge is whether the brother and sister will listen.
Surrounding this trio is a network of cousins, daughters, old-time friends and servants. Michael Urie is often hilarious as Epikhodov, constantly stumbling across the circular thrust stage. Juliet Rylance (Varya) and Josh Hamilton (Trofimov) are great additions to the ensemble, as usual. Both actors are alumni of Classic Stage's 'Three Sisters.'
Katherine Waterston (Anya) and Elisabeth Waterston (Dunyahsa), sisters in real life and daughters of Sam Waterston, are given the least of the meaty roles, but they still find humor in their respective characters.
Turturro offers a unique take on Lopakhin. He neither plays him like a cheat or a victim; he comes off more genuine and likable. It's difficult not to feel as much for his character as for Gaev and Ranevskaya losing their house. Davis also finds an engaging balance for the brother who can't stop his existence from slipping through his fingers.
Taken together, the actors populate the estate with all of their laughs, sorrows and forlorn looks out the windows.
Just about everything works in this 'Cherry Orchard.' The staging by director Andrei Belgrader is smooth and appropriate. There's not a stitch of stage left untouched. In fact, some of the actors even venture into the audience to sit among the theatergoers. There's a real sense that the estate of Gaev and Ranevskaya is shared among everyone sitting at the Classic Stage Company.
I could have done without the simple white curtains that separate the stage from the audience (they got more in the way than anything else), and the second act felt too farcical at times (the entrances and exits were becoming dizzying). However, the cast holds it together and stays faithful to John Christopher Jones' translation.
The true star — other than Chekhov, of course — is Wiest. She is able to convey so much emotional energy with a warm-hearted smile. Her eyes are constantly looking around, taking in the final moments in her childhood nursery. We come to love this character's positivity, and then are heartbroken by her need to say goodbye. In many ways, 'The Cherry Orchard' is about this dichotomy: The refusal to let go of the past, and the fear of what the future might hold.
One can see the theme played out in a number of story lines. Lopakhin, eventually becoming money hungry, can't quite fit into the shoes of a nobleman. His peasant blood (and pride) runs deep. Similarly, Gaev, Ranevskaya and company are unable to process the prospects of ordinariness. They've always lived off the kindness of the banks, taking loans out and never truly keeping track of the money.
The selling of the cherry orchard is a wake-up call: Life, at least as far as they know it, can't continue forever.
Classic Stage Company, working off a scenic design by Santo Loquasto and costume design by Marco Piemontese, is able to build off Chekhov's themes and offer a tragicomic production that feels almost scarily "of the moment." With economic role reversals all too frequently featured in the news, 'The Cherry Orchard' has never felt more topical.
By John Soltes / Publisher / John@HollywoodSoapbox.com
The Cherry Orchard

Written by Anton Chekhov; with a translation by John Christopher Jones

Directed by Andrei Belgrader

Starring Dianne Wiest, John Turturro, Ken Cheeseman, Daniel Davis, Ben Diskant, Alvin Epstein, Josh Hamilton, Salte Holmgren, Roberta Maxwell, Juliet Rylance, Michael Urie, Elisabeth Waterston, Katherine Waterston and Michael Wieser

Playing at Classic Stage Company at 136 E. 13th St. in New York City.

Click here for more information. Tickets from $70. Performances run through Dec. 30.

Running time: 135 minutes

Rating: