Samuel L. Jackson, Angela Bassett climb 'The Mountaintop'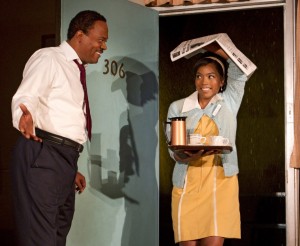 The Mountaintop, the new play by Katori Hall at Broadway's Jacobs Theatre, is an engaging piece of historical fiction that attempts to relive the final hours of Martin Luther King Jr.
On the rainy night of April 3, 1968, the civil rights leader finds himself in the Lorraine Motel in Memphis, Tenn. He's been peacefully raising hell all day and is ready for a night of room service and sleep. Then Camae, a maid with a bubbly personality, enters his room and his world.
The back-and-forth between the two characters is a spirited exchange. Camae (Bassett) is a devoted follower of the man and his mission. King (Jackson) uses the conversation to put a real face on the work he's been accomplishing.
Not much is learned, which is perhaps the point: Hall has an uncanny ability of humanizing this godly historical figure (apparently King had smelly feet). But still, the two are clever enough to keep one's interest for 90 minutes.
Methodically and deceptively, we come to learn of King's impending assassination. When the revelation materializes, we begin to question Camae's presence. Who is this maid? Why has she been sent? Who has sent her?
All of King's triumphs and failings are put on display. There's talk of his alleged indiscretions. There's frantic searches for wiretaps. There's a look at his strategies and speeches. Because Camae is such a devoted fan, Hall is able to revisit many of the leader's lofty highlights.
Still, throughout the entire 90-minute work, there's an uneasy feeling of ordinariness. It becomes quite deflating to think that this was how King spent his final hours. There's nothing overly cathartic or meaningful that isn't already summed up by King's writings and speeches. Hall has the dubious task of presenting a well-known historical figure in a realistic and trascendant light. She accomplishes half the task: This King, as portrayed by Jackson, is a real man with real feelings and real fears. She trips up when trying to tie this thesis all together into a play that adds to the repertoire of the legendary figure.
Jackson is pitch-perfect. He is not playing the "I have a dream" orator; instead, he's much more earthbound and human. This is a behind-the-scenes portrait, after the crowds have gone home and the microphones have been turned off. To that end, he succeeds marvelously in a difficult role.
Bassett starts out strong, representing almost the polar opposite of King's quietness. She's loud and energetic, bending her body left and right as she makes her emotive points. The early scenes soon melt into the later scenes, and the audience comes to realize that Bassett doesn't have too many tools beyond the over-the-top gestures and high-pitched southern accent. She's never a bore to watch and always engaging, but, after being in her company for 90 minutes, the performance feels too small, despite its yearning to be big.
Kenny Leon, an expert director, has a lot of fun with the play. He stages the conversations in an interesting, economical manner. The final 30 minutes, which I will not spoil, lend themselves to a coup-de-theatre that feels earned and appropriate. That's a credit to both Leon and Hall.
The Mountaintop may not change your view of King, but it will likely leave a lasting impression. All the evidence one needs that this man's message has traveled down through the decades is to look around the streets in midtown Manhattan, taking in the beautiful diversity and the American dreams on display. I'm not sure if a play could equal that legacy, and that's probably a good thing.
By John Soltes / Publisher / John@HollywoodSoapbox.com
The Mountaintop

Written by Katori Hall

Directed by Kenny Leon

Starring Samuel L. Jackson and Angela Bassett

Playing at the Bernard B. Jacobs Theatre at 242 W. 45th St. in New York City.

Click here for more information. Tickets start at $76.50.

Running time: 90 minutes

Rating:

Photo courtesy of Joan Marcus