Kim Cattrall, Paul Gross sizzle in 'Private Lives' on Broadway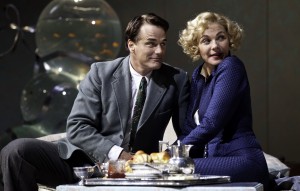 When she makes her entrance, it's in a simple bath towel, hiding just enough to prove positively enticing. Being that this is Kim Cattrall's grand entrance, it wouldn't be out of turn to believe that an episode of Sex and The City is being staged at the Music Box Theatre.
No, Carrie Bradshaw and company are nowhere to be found. This is Noël Coward country, and Cattrall is starring as the sexy, smart-talking Amanda in a first-rate revival of Private Lives. Her romantic equal is Elyot, played with a debonair brilliance by Canadian actor Paul Gross. Together, these two endearing and attractive actors imbue Coward's words with a verve and vitality that is often difficult to find on the Great White Way.
This one is a winner.
The plot is pure Coward: Elyot and Amanda are recently divorced and recently remarried. With their new spouses adoring their every move, both lovebirds honeymoon at a swanky hotel in Deauville, France. Like a theatrical sitcom, they end up with adjoining balcony rooms and it doesn't take long for the farcical antics to begin in earnest.
Elyot and Amanda may have moved on from each other, but there is still a fire beneath the skin, brimming with emotion. They simultaneously love and hate each other, but never grow bored. It's almost like these two lost souls know exactly how to push the right buttons to enjoy life and also destroy it. This makes them impossibly inseparable.
Cattrall, looking as beautiful as ever, offers just the right balance for Amanda. She's a modern woman with a firm sense of independence. She chooses what to do and how conversations will evolve. But underneath her exterior is a heart waiting to be swept away.
Enter Elyot, a dashing man with a outward respectability and inward love for loving. He's perpetually holding a drink and always enjoying the reciprocity in the air. Gross offers a finely focused portrait; Coward's words feel comfortable and accurate on his tongue.
These two have a natural chemistry (although sometimes it proves to be as complex as astronomical physics). They work off each other's words, constantly trying to take hold of the conversation. Theirs is a love that domineers through competition.
The two unfortunate spouses are played by Simon Paisley Day and Anna Madeley, both consummate actors unwilling to let their characters wallow in the darkness. Day has a definitive upper-crust feel to his mannerisms, while Madeley enlivens Sybil with an innocence that feels simultaneously heartbreaking and wretching.
Rounding out the cast is Caroline Lena Olsson as Louise, the French maid in control of keeping order at Amanda's apartment.
The great Richard Eyre directs the proceedings with a deft hand and comedic sensibility. Everything is taken with a grain of salt and wink of the eye.
Rob Howell pulls double duty as both set and costume designer. His suits and dresses are exquisitely detailed; they're only rivaled by his brilliant rendering of a curvy Paris apartment in acts II and III. The ceilings seem to stretch endlessly upward, while a three-globed fishtank bubbles in the background.
The ultimate winner of the night is Noël Coward himself. His words have never sounded finer or funnier. For the new Broadway season, Private Lives leaves a lasting impression and is the first must-see production.
Can anyone say Tony Award?
By John Soltes / Publisher / John@HollywoodSoapbox.com
Private Lives

Written by Noël Coward

Directed by Richard Eyre

Starring Kim Cattrall, Paul Gross, Anna Madeley, Simon Paisley Day and Caroline Lena Olsson

Playing at the Music Box Theatre at 239 W. 45th St. in New York City.

Click here for more information. Tickets start at $46.50.

Running time: 140 minutes

Rating: