REVIEW: Ellen Burstyn, John Glover enliven 'The Atmosphere of Memory'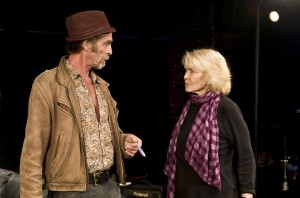 The Labyrinth Theater Company has presented many great theatrical experiences over the last 20 years. From The Motherfucker with the Hat to Jack Goes Boating, this boutique presenter of drama knows how to play with the big boys.
The company's latest effort is The Atmosphere of Memory, a strangely effective comedy-drama from David Bar Katz. Presented at the strangely effective Bank Street Theater on Manhattan's West Side, the two-act play features the wondrous acting talents of Ellen Burstyn, John Glover and Max Cassella.
Jon (Cassella) is on a mission: Using his playwrighting skills, he's determined to discover lost clues about his unorthodox upbringing. To achieve this goal, he's decided to write a memory play for Broadway that is a crazy mishmash of genres and styles. From musical sequences to scenes where the characters speak with needless foreign accents, the play-within-a-play is a scatterbrain look into the writer's tortured past.
Making this personal production even more personal is the fact that Jon has cast his mother, Claire (Burstyn), in the lead role. Suddenly, fact and fiction are melding together, and Jon can't tell the difference between reality and what's intended to be on stage. Can a writer find answers within the written word?
Trying to disrupt the proceedings is Jon's crazy father, Murray (Glover), who drinks too much, jokes too much and speaks the truth with an unfiltered tongue. Jon's sister, Esther (Melissa Ross), is also a little disturbed by the images she sees in her brother's new play. Is he really describing reality or heightening the family's troubled history for the paying public?
This plot description doesn't quite take into account the fact that Jon's family is the definition of dysfunctional. While his mother's head is in the clouds, his father's destructive path consumes almost every other character. We come to learn many uneasy truths about this clan of oddities. Here's one: When Esther menstruated for the first time, her mother decided to hang the bloody sheet outside for the neighbors to see.
Papa is no better. He refuses to give Jon what he dearly wants: affection, sanity, comfort, fatherly love, guidance.
When watching The Atmosphere of Memory, one needs to leave all reason at the door. Sitting in the tiny Bank Street Theater, taking in David Gallo's scattered sceneic design, I never once thought this family actually existed outside the constructs of Katz' mind. There are too many unbelievable situations and assumptions. In this play about theater, everything and everyone seems too theatrical.
But reality aside, the humor is enjoyable. Burstyn finds the right balance between motherly adoration and flimsy passivity. This acting legend bites into her role and finds a real character, even if some of the lines she needs to speak are too clever to be taken seriously.
Glover is the highlight. When he makes his grand entrance from stage left, one can immediately tell that this will be a memorable performance. He's shabbily dressed; his hairy chest pokes out from an unbuttoned shirt; he's got a perpetual 5-o'clock shadow and sardonic wit waiting at the ready. Don't cross this hurricane's path.
Cassella is also enjoyable as our protagonist. Even though Katz has him off to the side on too many occasions, the role is where we can find the drama in this dramedy. It's Jon's transition to full realization that becomes the main arc of the show.
Pam MacKinnon offers exquisite directorial flourishes throughout the 2-hour-15-minute evening. The intimate space paired with many scene changes feels like it could be a cause for creative air-traffic control. Luckily, the director keeps everything smooth and tight.
The same can't be said for the play itself.
Katz has some superb one-liners and he writes sharp banter extremely well. However, The Atmosphere of Memory becomes too self-indulgent and overstays its welcome by about 15 minutes. He's created original characters and placed them in the middle of a plot that is only semi-interesting. With a little more scalpel work, this Labryinth production could have equaled the excellence of its cast.
By John Soltes / Publisher / John@HollywoodSoapbox.com
The Atmosphere of Memory

Produced by Labyrith Theater Company

Written by David Bar Katz

Directed by Pam MacKinnon

Starring Ellen Burstyn, John Glover, Max Cassella, Kelley Curran, David Deblinger, Charles Goforth, Paul Kandel, Kelley Rae O'Donnell, Melissa Ross and Sidney Williams

Playing at the Bank Street Theater at 155 Bank St. in New York City.

Click here for more information. Tickets start at $45.

Running time: 135 minutes

Rating: