'Kill the Irishman' looks into the life of Cleveland's Danny Greene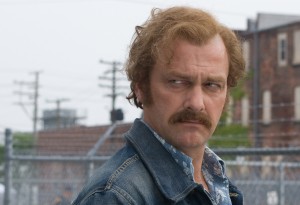 Ray Stevenson isn't exactly a household name. The actor from Northern Ireland has had an extensive career in the movies, everything from King Arthur to HBO's Rome to this year's Thor. But it took an independent film with great ambitions to show his true range and solidify his talents for the American public.
Kill the Irishman is a smart, slick look at Danny Greene, the Cleveland-based union thug who developed an unlikely connection with the local mobsters in the 1970s. Stevenson's portrayal is a gargantuan feat. He embodies this Irishman with an equal balance of physicality, emotional resonance and brute force. Just looked at his face, and it gives the impression that he's a man who has traveled many miles.
In one scene he could be as gentle and genteel as can be. In another, he's cold-heartedly kicking ass and taking names.
The movie never quite lives up to Stephenson's performance, but still proves to be enjoyable entertainment. Director Jonathan Hensleigh, who also wrote the screenplay with Jeremy Walters, takes a page out of Martin Scorsese's book with his storytelling technique. Kill the Irishman feels like an offspring of Casino, Goodfellas and The Departed. All of the Scorsese trademarks are here: pop music highlighting intense scenes of violence, mobsters treated like Shakespearean characters, stylized camerawork that enlivens the local neighborhood. I was waiting for Scorsese to make a cameo.
It's admirable that Hensleigh and company have paid tribute to the mobster film, although it also holds Kill the Irishman back from being its own statement in the subgenre. Greene is a vivid character that deserves a wholly original movie to accompany his arc.
The supporting work in the film thankfully matches Stevenson's acting. Vincent D'Onofrio plays his good friend, John Nardi, while Val Kilmer is the detective on the hunt. Christopher Walken has a few choice scenes as a feared local leader, and Fionnula Flanagan plays Grace O'Keefe, perhaps the only person who could pull at Greene's heartstrings.
Paul Sorvino and Steve Schirripa, two mob-movie favorites, are exquisite in their respective roles.
The writing is intelligent and brisk. Scenes move quickly in this 106-minute feature. The evolution of Greene from union lackey to union leader to local Irish legend happens within the blink of an eye. It's to Stevenson's credit that the transition feels natural and believable.
The movie touches upon many important themes, including the difficulty of Irish immigrants to gain much work-related respect in the 1970s. Although Greene performed heinous crimes and was a force to be reckoned with, underneath the hard exterior was a Robin Hood looking to attain justice for his people. He was a loner on an Italian turf, and rather than take the peaceful route, he decided to meet violence with violence. As any flawed character realizes soon enough: Wanting power is vastly different than earning power. Greene steamrolled through Cleveland without taking a break to see the carnage that he left in his wake.
His fall from grace is sadder than most mob tales, mostly because he had the potential to effect real change. As the boss of the longshoreman's local outfit, he could have brought his idea of gainful employment and safe working conditions to fruition. Corruption allegations and greed sidestepped his ambitions.
Still, it's difficult to classify this Irishman as simply a bad guy or good guy. He deserves exposition, if not empathy. The mob wanted him killed, and yet, time and time again, they couldn't find him, beat him, or resist him. His charisma was too memorable. Eventually, he rose through the ranks and aided the FBI as an informant. So does the fact that he told secrets to the Feds excuse some of his harsher behavior?
Stevenson takes all of this biographical information and executes a portrait that is uncompromising and unwilling to settle for cookie-cutter assertions. The performance is almost as fascinating as the Irishman himself.
By John Soltes / Publisher / John@HollywoodSoapbox.com
Kill the Irishman

Directed by Jonathan Hensleigh

Written by Hensleigh and Jeremy Walters; based on the book by Rick Porrello

Starring Ray Stevenson, Vincent D'Onofrio, Val Kilmer, Christopher Walken, Linda Cardellini, Tony Darrow, Robert Davi, Fionnula Flanagan, Paul Sorvino and Steve Schirripa

Running time: 106 minutes

Rated R for strong violence, language and some sexual content/nudity

Rating: