BLU-RAY REVIEW: Grace Jones vamps it up in 'Vamp'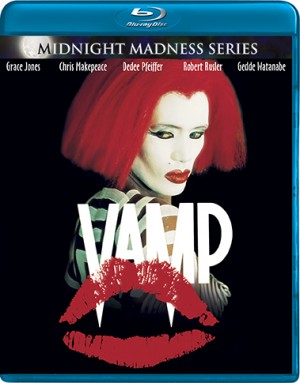 Grace Jones commands one's attention and never lets audience members look away. Her posturing and glances are simultaneously matched with looks of scary dominance and vibrant passion. I'm not quite sure how to categorize her appeal.
The model-singer-actress simply is an original, and this uniqueness is on fine display in the cheesy, albeit endlessly fun, 1980s horror-comedy Vamp. Jones is billed as a top star, but her scenes are minimal, even though her presence runs like a bloody current throughout the movie.
Keith (Chris Makepeace, of Meatballs) and AJ (Robert Rusler, of Weird Science) are two fraternity pledges looking for some strippers to enliven a weekend party. They employ the help of a rich nerdy friend (Gedde Watanabe, of Sixteen Candles) and head out for the big city and all of its wondrous cleavage.
What (and who) they stumble upon makes for a fright night of deadly proportions. The After Dark Club, where the boys end up, looks like any other go-go joint. There's a smart-talking host with a pink ruffled shirt (played by the always funny Sandy Baron), a bouncer with an enormous cigar permanently planted between his lips and gorgeous girls, girls, girls. But all is not what it seems.
The lead dancer is Katrina (Jones), a mysterious performer who seems more interested in performing artistic routines than showing some skin. Still, the boys are entranced and they try to convince her to come back to campus for the frat party.
As these things go, Katrina turns out to be the leader of a vicious clan of vampires that populate the stripper joint and prey on lonesome victims. It doesn't take long for the blood to start sucking and the frat boys to start running.
Dedee Pfeiffer turns up as a waitress with a bubbly personality and perhaps a hidden past. There's not much to the character, except maybe to show that not all female characters in this movie are violent vampires.
Vamp is a strange entry in the 1980s cheese genre, but it's wholly satisfying. It smartly blends college humor with horror conventions to make an enjoyable flick that never feels run-of-the-mill. The script by Richard Wenk, who also directed, is light and uncomplicated. There are several funny jokes and not too many "Why did they just do that?" moments.
Makepeace, Rusler and Pfeiffer are instantly forgettable in their cliche roles. Jones, of course, is instantly memorable. Watanabe is hilarious and plays his role with a comedian's touch. Baron is also a highlight, and it's always a pleasure to see him chomp his teeth into another iconic character.
The horror element in Vamp is actually not too bad. When Katrina first turns into an ugly, long-toothed vampire, the transformation is handled well by makeup maestro Greg Cannom (who would go on to bigger and better films, including Bram Stoker's Dracula).
Vamp won't change your beliefs in the world or make you think differently about strippers. But for its 94 minutes, it will entertain you with funny jokes and a few chills. Of course, all Jones had to do was look at the audience with those transfixing eyes and high cheekbones. That alone would have proved fatal. The blood-sucking is almost overkill.
By John Soltes / Publisher / John@HollywoodSoapbox.com
Vamp

Written and directed by Richard Wenk; based on a story by Donald P. Borchers and Wenk

Starring Chris Makepeace, Sandy Baron, Robert Rusler, Dedee Pfeiffer, Gedde Watanabe and Grace Jones

Running time: 94 minutes

Rated R

Rating:

Recently released through Image Entertainment's Midnight Madness Series.