REPORT: Chiller Theatre's Halloween show doesn't disappoint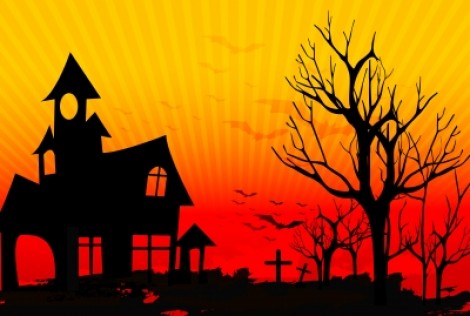 The ghosts, goblins and ghouls were out in full force at Chiller Theatre's biannual horror expo in Parsipanny, N.J., this weekend. The multiple inches of snow and hellish conditions didn't keep away the crowds, but it did seem to lessen the usual craziness of the three-day convention.
On Saturday, Oct. 29, when the lines are usually 20 deep for most celebrities, fans were able to mingle their way up to tables and snag their coveted autographs.
So who had the longest lines? Who charged the most? Who canceled?
Well, the largest cancellation came before the show even began. Smokin' Joe Frazier, the legendary boxer, was a no-show. Most everyone else showed up.
The longest line had to be a tie between Martin Landau and Elvira. Cassandra Peterson, the actress who portrays Elvira, started signing autographs around 1:45 p.m. on Saturday, and her line wrapped around the main lobby area of the Parsippany Hilton, where Chiller Theatre has been housed for several years. The interest in the horror hostess is always high, especially for this show, which was her last convention appearance in costume.
Landau's line similarly wrapped around the lobby, although it paled in comparison to other Hollywood legends from previous years (Ernest Borgnine, for example).
Mother Dolores Hart, a former Elvis Presley leading lady and now Benedictine nun, had steady business, as did Bruce Dern, Lisa Marie and Traci Lords (now that's a strange combination).
Marky Ramone only appeared on Saturday, and he commanded an enormous (and enormously confusing) line opposite the cool ghoul himself, Zacherley. Ace Frehley had a long line down the main hallway.
Pam Grier and Lou Gossett Jr. had continual business, and the Dracula ladies from Hammer Films greeted many fans (Mary Collinson may have been a no-show). For my own taste, I would much rather see Chiller go in the direction of these Hammer reunions than some of the odder inclusions at this year's show.
Burt Young's line started heavy, but thinned out by the end of the day. Similarly, Academy Award winner Louise Fletcher and Frank Vincent had small lines. The Paura Invasion, featuring many giallo favorites, was a neat room with several rare collectibles. Ian McCulloch, from Zombi 2, was a stand-up gentleman.
The average asking price was $20-$25. Landau asked for $30. Ramone was the best deal: $5, if you brought your own item. He also had photos available for $20, posters for $10 and drumsticks for $30.
The snow definitely kept the enormous crowds from coming. The parking lot was filled, but by late afternoon on Saturday it had become treacherous to drive around the local streets of Parsippany. Nearby Route 80 saw most cars traveling around 30 mph. Fans either came and stayed the night (the safest bet), or left a little early to have ample time to brave the streets.
The vendors room was interesting, but didn't feature too many different business opportunities from past shows. The one novelty: You could have your photo taken against a green screen and have your image super-imposed into a scene from Night of the Living Dead. I even caught Zacherley enjoying that booth.
For this Chiller Theatre convention, we're going to begin a new contest here at Hollywood Soapbox. We will announce a winner for Best Celebrity Guest. The criteria: They can't charge too much; They have to be cordial with the fans; They have to be appreciative of the great deal of money fans spend at cons; They need to be cool.
CHILLER THEATRE CELEBRITY GUEST AWARD: Ian McCulloch
RUNNERS-UP: Veronica Carlson, Caroline Munro, Mother Dolores Hart and Elvira.
Did you go to the show? Leave your memories below. How was Friday and Sunday?
By John Soltes / Publisher / John@HollywoodSoapbox.com
Click here for more information on Chiller Theatre.
Image: Click
here
for more information.