BOOK REVIEW: 'Not Bad for a Human' details Lance Henriksen's cinematic career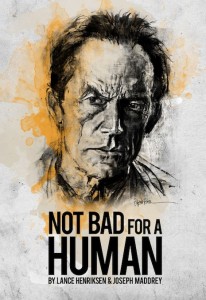 Confession: Lance Henriksen has always been one of my favorite actors. He holds the weight of the universe on his face, letting his eyes and brooding, perpetually interesting manner work wonders on the audience. He's worked his way through a bevy of dramatic roles over the course of four decades in the business. He's had his hits and misses, but there are few roles where he doesn't prove undeniably memorable.
Not Bad for a Human, Henriksen's autobiography co-written with Joseph Maddrey, is a perfect gift to fans of the actor. It's not a typical rags-to-riches story where we watch our start ebb and flow his way to the top. Instead, the book is much more methodical. Henriksen describes in detail his passion for acting, where he musters the courage to bring his characters to life and what drives him to wake up in the morning. This is Lance Henriksen unplugged; he's raw, visceral, truthful and never bullshits. He won't let you blink.
In Not Bad for a Human, you find a lot more about Lance Henriksen, the man, rather than simply Lance Henriksen, the genre actor.
Along the way, he is beyond open about his shortcomings on the silver screen. There are funny asides about his spate of Bigfoot movies and brainless horror sequels.
However, the more interesting parts are when Henriksen opens up about his successes, his unique drive to overcome difficult obstacles and his unmatched passion. There is a lot that this man can be proud of, both personally and professionally. He's an accomplished potter, artist and family man. He's traveled the world and faced a great deal of familial hardships.
On the professional side, there are large sections on his turn as Bishop in Aliens and, of course, Frank Black in the hit FOX series, Millennium. For fans, this is delicious Kool-Aid.
The reader is offered a rare glimpse at the behind-the-scenes sentiments of the actor and how he approached each and every role. There are ancedotes about Bill Paxton, James Cameron, Steven Spielberg, Ed Harris, Kathryn Bigelow and Sidney Lumet. But Henriksen is not merely a name-dropper. The man doesn't seem to care too much about his star power or cinematic success. He's much more interested in respecting his roles and carving out believable portraits.
The book mostly works and never grows dull. The prose is interspersed with transcribed interviews from the actor. At first, the unusual format seems grating and too finicky. However, it becomes conversational in tone after a bit and it's hard to see the book any other way.
Breaking up the narrative are evocative drawings of the actor, all of them stylized renditions of his brooding characters.
A lasting memory of Not Bad for a Human is that the reader learns more about Henriksen's unique method of acting than anything else. He sometimes uses screenplays as improvisational starting points, deciding to find his character with fresh phrases and original, instantaneous content. He always tries to find a tangible prop to couple with the character, to make him more real, to breathe life into the fiction. It's a fascinating approach to acting that partially grew out of Henriksen's own upbringing: He had a rough childhood in New York City. He was thrown out of the military. He couldn't read for the first couple decades of his life.
Not Bad for a Human is a generous gift to Henriksen's fans, offering a wonderfully realized compendium to the actor's extensive film resume. Take a look behind the curtain and see what this wizard can do!
By John Soltes / Publisher / John@HollywoodSoapbox.com
Not Bad for a Human

By Lance Henriksen and Joseph Maddrey

Bloody Pulp Books, 374 pages (hardcover)

Retail price: $35 limited edition, autographed by the author

Rating:

Click here for more information.