NEW YORK COMIC CON RECAP: Winners and losers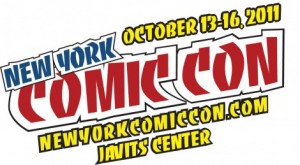 New York Comic Con has come and gone. Sadly fanboys and fangirls will have to wait a whole year for the next event.
Overall, the four-day convention was a great success. It provided numerous opportunities for autographs, photo ops, exclusive merchandise, rare collectibles, panel discussions and big news announcements.
Here's a list of the winners and losers from the con…
• BEST GIVEAWAYS: Legendary's variety of T-shirts; Animal Planet's Finding Bigfoot show gave out free beer on Thursday night; DC offered hourly swag sessions that included posters, comics, buttons and glow-in-the-dark Green Lantern ice cubes; Image Comics would sporadically give out back issues of Haunt, free lithographs and figures from McFarlane Toys; Tor Publishing gave out free books; Sesame Street gave out a host of goodies, including wallets and Cookie Monster hats; and Chevrolet gave away free Comic Con shirts.
• WORST GIVEAWAYS: Marvel needs to stop treating its fans like drug addicts, dangling T-shirts in front of them in such a disparaging way (I'm a bit of a stickler, and trust me I'm a huge Marvel fan, but the whole situation was obscene).
• BEST BOOTH: Everything Star Wars — this was simply the best corner of the convention. The Old Republic should be a fun game, indeed. Hallmark's exclusive R2D2 and Star Trek figures were hot sellers.
• WORST BOOTH: IDW, mostly because they didn't have a booth! How could that be?
• BEST COMIC CELEBRITY: Robert Kirkman. The man of the hour is still the creator of The Walking Dead. A mere five hours before his TV series began its second-season premiere, Kirkman decided to spend extra time with the fans. He signed anything put in front of him, and he was extremely gracious. Image Comics and Skybound also have the best signing policy: Raffle tickets given out at the beginning of the day. You have a ticket, you're guaranteed a signature.
• BEST COMIC CELEBRITY RUNNERS-UP: Todd McFarlane would not say "no" to his fans. You want a picture? Sure thing. You want an autograph? No problem. Jim Lee and Scott Snyder were similarly gracious, as was Greg Capullo.
• WORST COMIC CELEBRITY: No stinkers this time around.
• WORST CLUSTERF***: Any time Stan Lee signed, it was necessary to run faraway. The crowds around the man are simply too much to handle. When he premiered artwork from Romeo and Juliet: The War, I was just waiting for the fire marshal to show. He needs to be in his own room away from everything else.
• WORST ORGANIZATIONAL MISHAP: Many people had no idea where the celebrity autograph room was located. Turns out it was in the North Wing of the Javits Center, but many people went home sad they couldn't see Conan the Barbarian.
• BEST RETAILER: Midtown Comics. Period.
• MOST PROMISING GRAPHIC NOVEL DEBUT: American Terrorist by Tyler and Wendy Chin-Tanner (click here).
• MOST PROMISING NOVEL: Antquitas Lost by Robert Louis Smith (click here).
• MOST PROMISING NEW COMIC: Key of Z by Claudio Sanchez (click here).
• MOST PROMISING VIDEO GAME: Star Wars: The Old Republic (click here).
• MOST ELUSIVE COMIC CELEBRITY: Frank Miller. Where was this man?
• BEST FIND: Perfect Spawn back issues for 50 cents.
• BEST COS-PLAY: Banana Wolverine (he was just like you're imagining).
• WORST COS-PLAY: Anyone with their shirt off.
• MOST DEDICATED FANS: Dragon Ball Z.
• SURPRISINGLY LONG LINE: Felicia Day.
• SURPRISINGLY SHORT LINE: Roger Corman (not too short, but not too long for a Hollywood legend).
• MOST UNFORTUNATE CANCELLATION: John Landis
• BEST EXCLUSIVE: Tie between Batman: Arkham City Sickened Joker variant, plus the Hallmark figures of R2D2 and Star Trek ship.
• BEST DAY OF THE CONVENTION: Friday … let me explain. Thursday was perfect, but too short (let's just make that a full day next year). Saturday was way too crowded from beginning to end. Sunday was crowded, but manageable. However, although it's great to see young fans on the convention floor, Kids Day can be hectic. Friday, though, is perfect. Tons of activities, crowds are somewhat less.
• BEST PANEL: The Avengers from Marvel. By the end of the convention, I also came around to their big display for the movie. It was an impressive stage for a comic convention.
• BEST MEMORY: Talking in lines with like-minded people. Great conversations about this great world of comic books.
By John Soltes / Publisher / John@HollywoodSoapbox.com